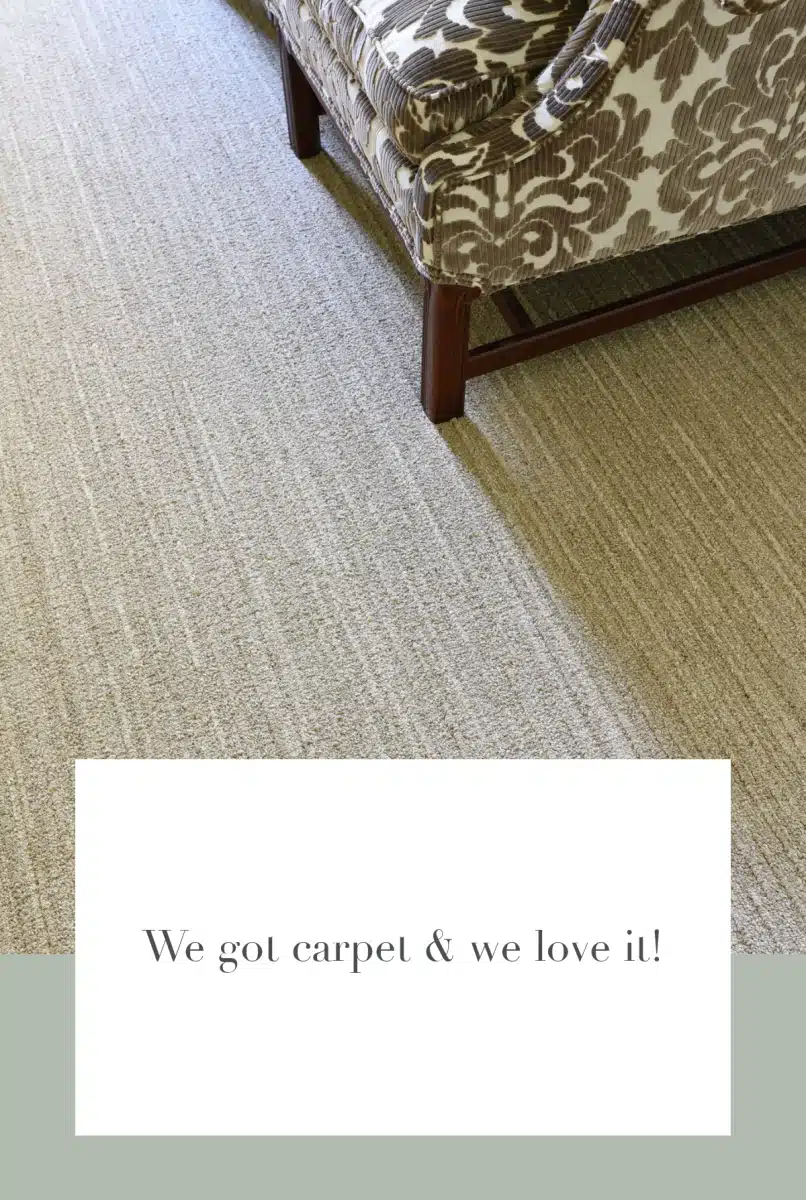 For months we've been deciding what to do to the floors in our bedroom, upstairs foyer and stair runner.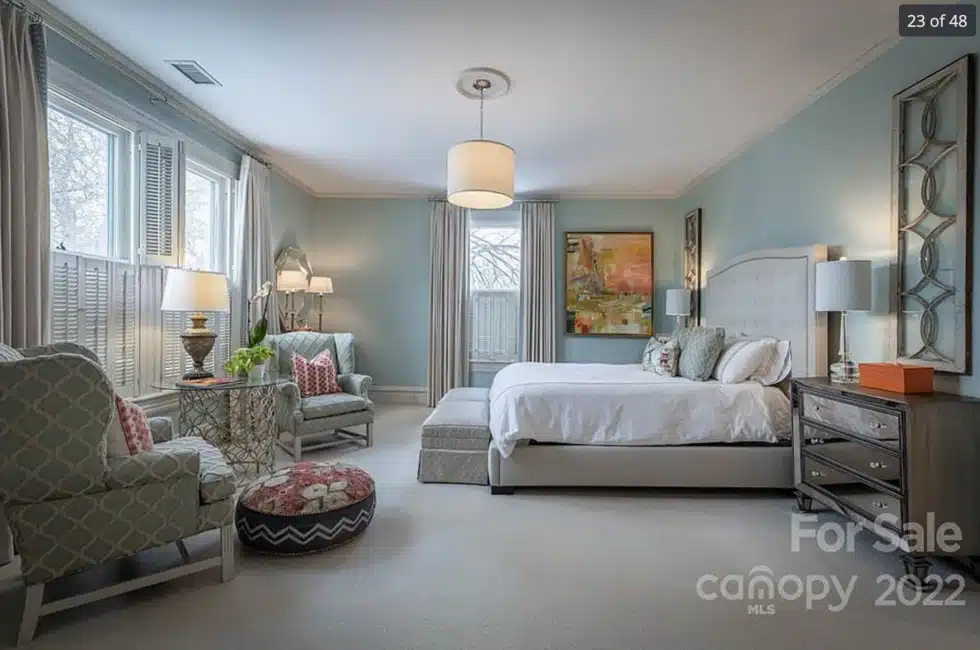 When we moved in, there was white carpet in the bedroom, bathroom and foyer and although it had been cared for, it was showing major signs of wear and dirty around the edges. We added greatly to the dirt and in just five months of living here it looked twice as filthy. The photo above is the listing photo of our room.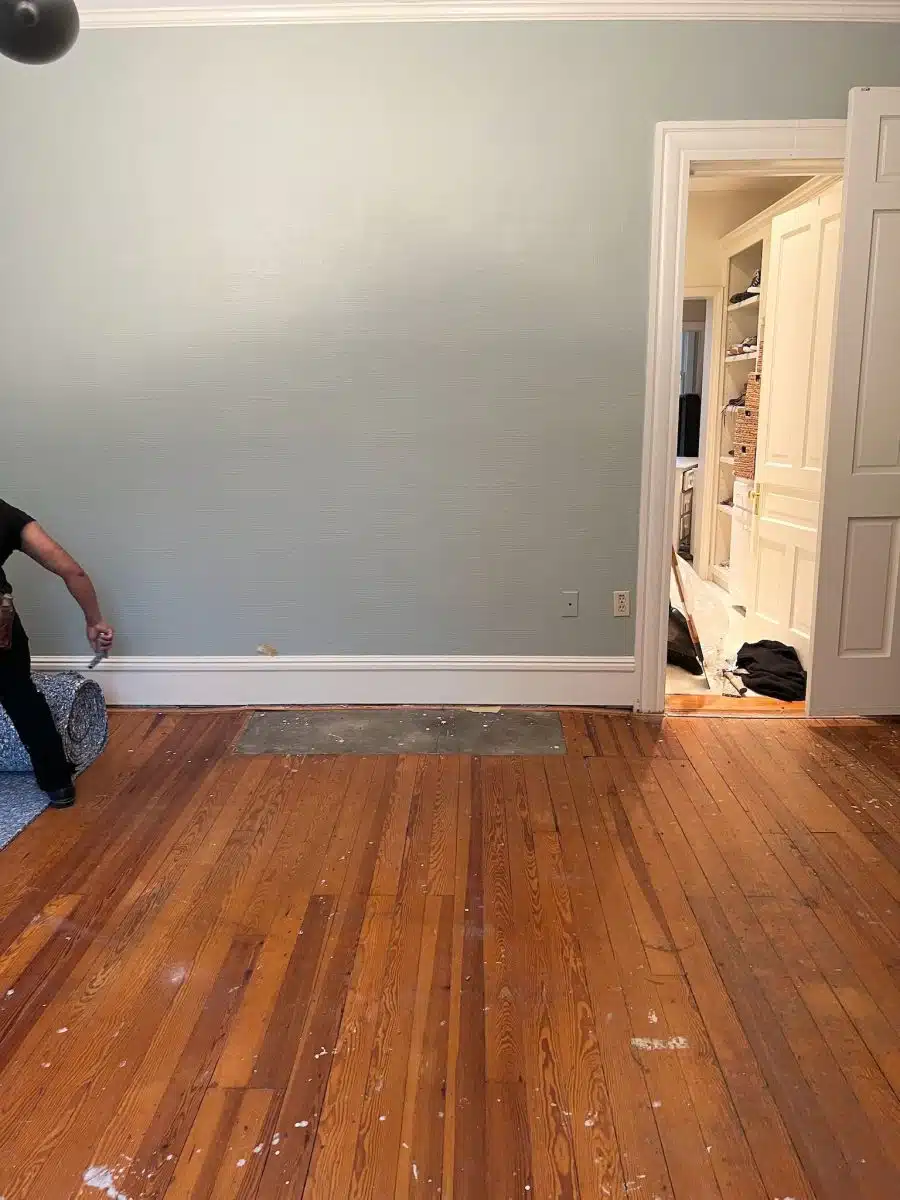 ORIGINAL PINE
We knew there was original pine under the carpet (1905 wood!). We removed the carpet in the foyer and the floors were for sure refinishable, but we weren't sure that's what we wanted to do in these two rooms.
We also knew there was an old fireplace covered up in our bedroom with a concrete hearth in the floor. You can see the shape of the floors above, and the hearth, not perfect but for sure could be refinished.
After living in this house for almost six months and enjoying the 4000 square feet, most of which is hardwood floor, we chose the cozy route and decided to re-carpet our bedroom and upstair foyer. We can always refinish the floors later, they are patiently waiting, currently being protected by the carpet.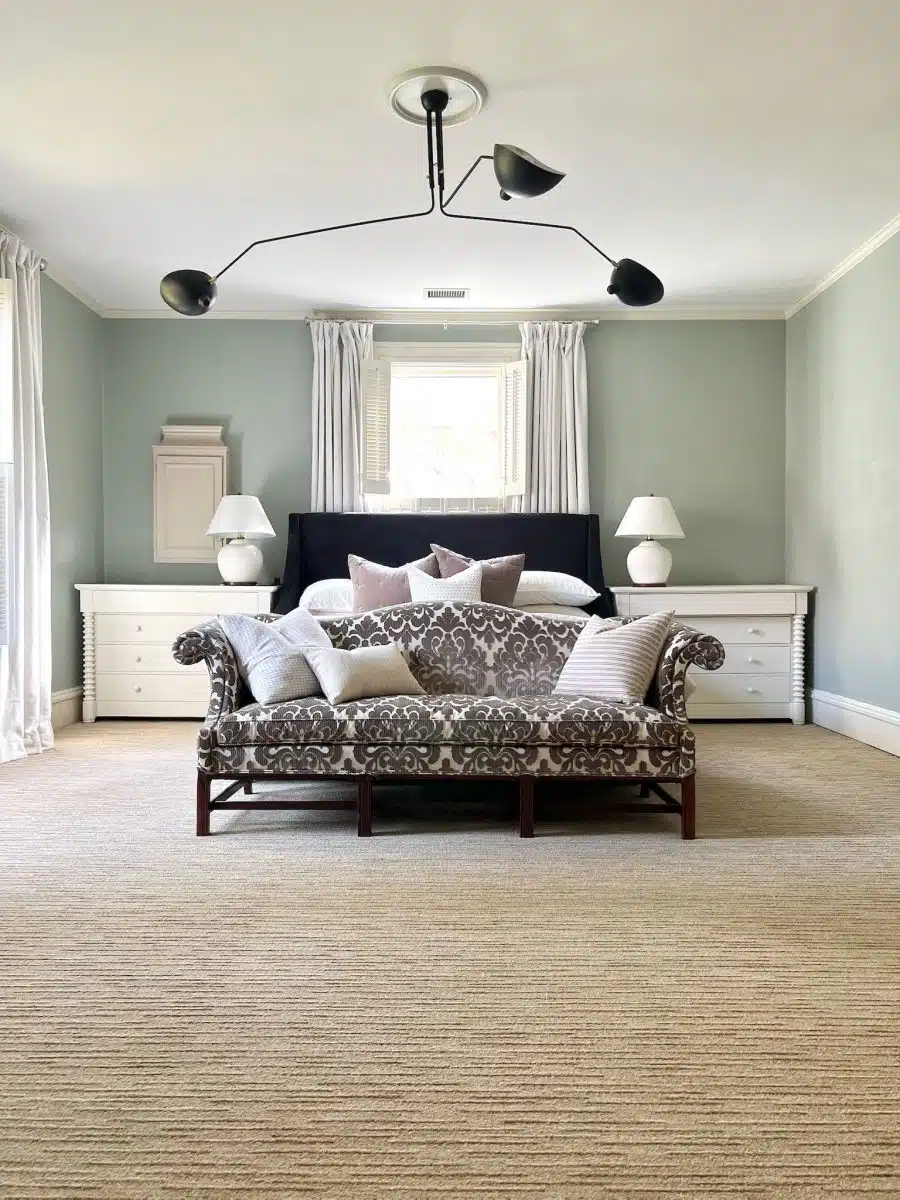 Here's the carpet in our bedroom. I'll be adding a big rug soon because I love how a rug pulls a room together. Even over carpet.
I really wanted carpet that looked like a natural jute rug (which we have in many rooms of our house), was soft and also pet friendly. I pinned lots of images online and realized I was drawn to carpet that had lines/squares/pattern in it. To me, that makes it feel more like a natural rug. Here's a little screenshot of the types of rooms with carpet I pinned. This gave me the confidence I needed to move forward with my choice.

I fell in love with a carpet with tiny squares but I was afraid putting carpet full of right angles might be pushing it in our not quite square home. Chad pointed out this striped look and at first I said NO WAY. That looks too commercial. But as I considered it, I realized it really related to the look I was after.
Here's what we ended up with from Shaw: Natural Balance in the Jute color way – it looked the most like our existing Jute rugs in other rooms of our house. 
(See what we choose above: middle row, far left).
We also replaced the old runner on our stairs. We had the carpet bound and did a 27 inch wide runner so that we wouldn't have to make weird cutouts on all the turns and make room for the huge newel posts on the corners.
We will have to touch up the paint on the risers to the area where the old runner covered part of the riser – you can see where our painters ended the new trim color on every riser. The scheduling worked out that painters could come first and I didn't want to deal with removing the runner and having tack strip when we knew they were going to put a runner right back. 
Above is the listing photo and below is our entry foyer today, I took this photo three minutes ago. She's got a fresh coat of Extra White paint on the walls, my favorite: Gossamer Veil trim color and a new runner. That rolled up rug was just delivered a few days ago and belongs in a bedroom upstairs.
My goal is to honor the history and personality of the home – since the trim was already painted I still wanted to make sure it got the attention it deserved, just in a quiet way that reflects our personal style. She feels fresh and modern and updated, just right for a 117 year old welcoming entry.
This project was very rewarding on many levels, but personally, it helped reemphasize the impact of changing the room that is the heart of the home. Often the kitchen is the heartbeat of the home, but logistically, this foyer (up and down) is the room we pass through one million times a day, and it finally feels like us.