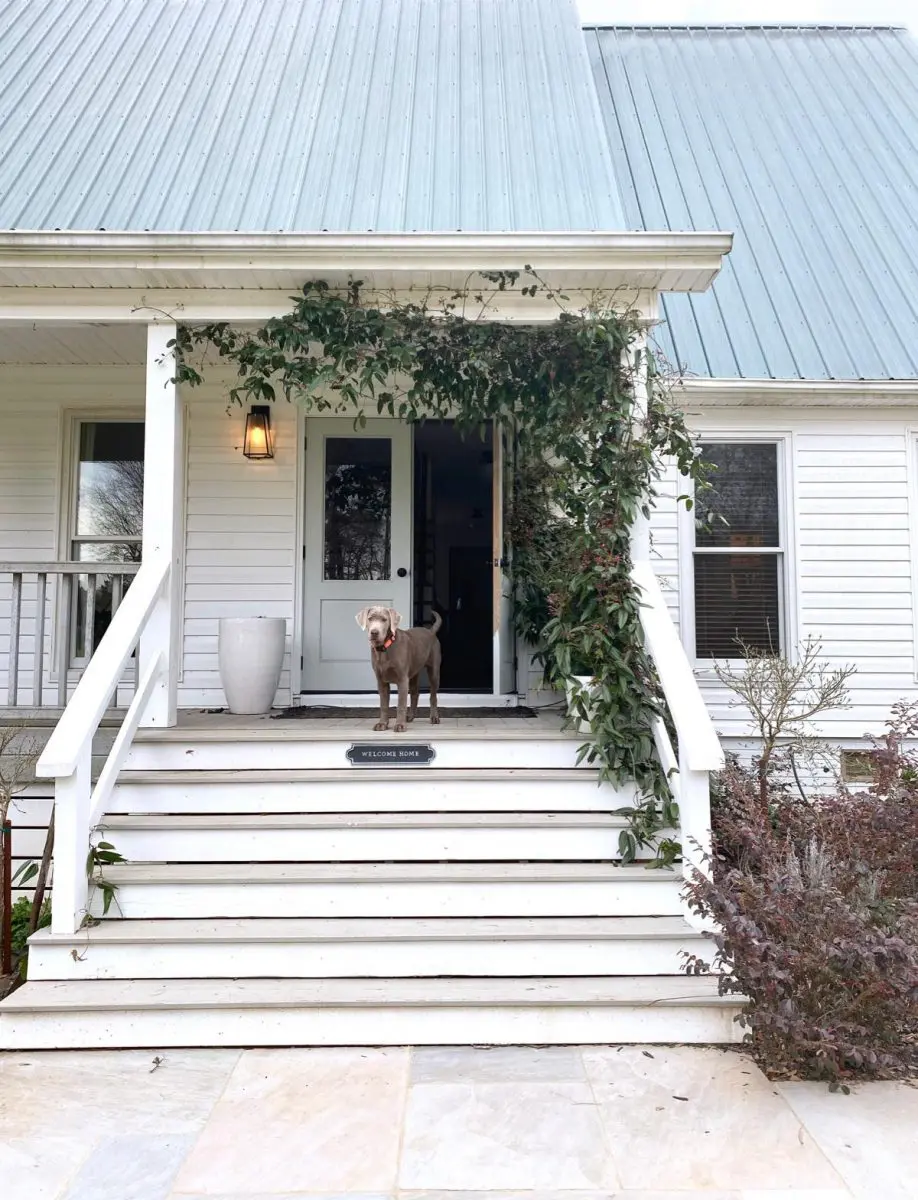 I've been in love with Clematis Armandii, a flowering evergreen vine, for almost ten years now.
It started when I saw this post from Cottage and Vine. A swath of white flowers and dark green leaves over her front door had me swooning in my rental house, longing to have a place where a vine could take root and grow over time.
I pinned that post, the name of the evergreen vine was seared into my brain and for the next eight years I waited patiently as we finally bought our fixer upper and slowly created the perfect little places for a vine like this to thrive.
Because we had an entire backyard pool renovation that involved building all new retaining walls, and a front porch makeover, I decided to wait until we finished those projects to plant the vines.
You'll see that they grow so fast, they make up for lots of lost time.
It's not too late, now is the perfect time to plant a vine.
In the fall of 2019 we planted ten Clematis Armandii, three died, the others thrived.
We live outside Charlotte, NC our planting zone is 7 or we can often get away with 8 where we live.
Clematis Armandii likes zones 7-9.
I like Clematis Armandii because it doesn't loose it's leaves and I'm desperate to see green in the winter.
We have a weird blank exterior wall next to our backdoor that has a little door to a crawl space we can't block.
Clematis Armandii to the rescue. We started by creating an X on the wall with string, but the vine was too heavy, Chad changed the string out for metal wire and it's held fine.
Vines are a lovely way to disguise weird design elements, hide awkward areas, add beauty to empty spaces, soften hard edges and grow something where you have more vertical space than horizontal ground.
I love that they add a sense of charm, nostalgia and mystery to a wall, banister or fence.
If you love the English garden look, you simply must add vines to your yard.
This will be our second spring with our vines, and unlike last year where we had a couple of random flowers here and there, now there are THOUSANDS of buds ready to burst.
I'm hoping they bloom this week, and if so, I'll share some videos in Instagram stories.
The other tip I have if you love the English Garden look: you want your plants to all touch each other. Let them grow wild, and pack them in together.
We have both the pink and white flowering Clematis Armandii, I love them both and they smell like heaven is baking vanilla apple pie.
Locally, I purchase my vines from Pike Nurseries, if they are out, I've also ordered them from Monrovia (they ship to Pike's so I pick them up there.
Most likely, if your local nursery doesn't carry them, they can order them for you and have them in a few weeks.
Other vines I love and grow on the property: Wisteria (not evergreen), Morning Glory (annual but self seeds), Ivy.
Today on Instagram let's chat about what vine you love that works for where you live. I'd love to gather more ideas especially for those of you who live in different planting zones.
Related Post: Our fixer-upper Six Years in (with before and afters, sadly from two years ago)
PS, I always get asked when I share the front of our house: we have a green metal roof (here when we bought the house) our front doors were made by JCraftsman and we painted them Sherwin Williams: Silver Sage, a light green that I think looks charming with our green roof in every season.
Also, I did start one vine in a pot for photo purposes, but the vines growing on our porch are now all planted in the ground, just intertwined with the potted vine so I let it be.