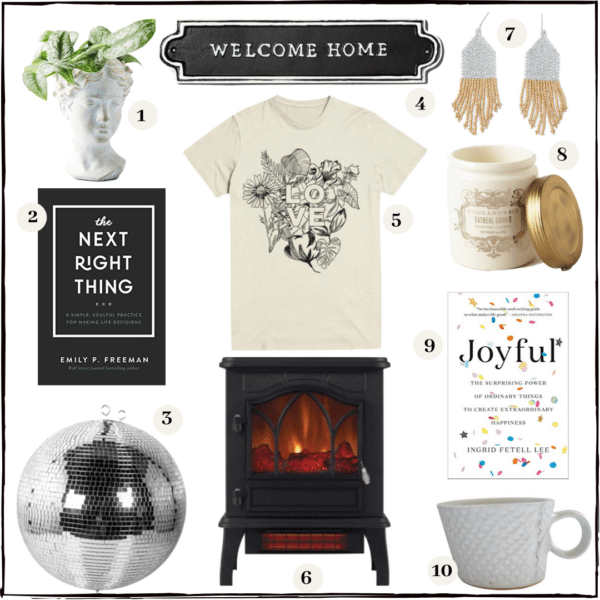 1. Grecian Bust Pot: Inspired by tradtional Grecco-Roman sculptures, this handpainted pot adds an artful touch to any space. I use mine in my kitchen to hold wooden spoons.
2. The Next Right Thing: A Simple, Soulful Practice for Making Life Decisions. By Emily P. Freeman. One of my favorite books of the year–a great gift for men or women, young or older.
3. 16″ Mirror Ball: heavy-duty construction layered with thousands of quarter-inch real glass tiles and a durable mounting bracket. I keep mine on my desk in my office right in front of the window for daily magic.
4. Welcome Home Sign: from Hearth & Hand with Magnolia, this decorative wall art boasts an all-metal construction for a durable design and sleek appeal. I have one of these on my front steps, and one on my back door, LOVE THEM!
5. Botanical "Love" T-shirt: from Preemptive Love, every shirt funds their peacemaking work on the frontlines of conflict in Syria, Iraq, and beyond. Unisex Tee–I bought the small and love it–super cute under a blazer.
6. Electric Stove Heater: Infrared heat helps to maintain the natural humidity within the air, resulting in comfortable heat without drying out the room's air. BEST ITEM IN OUR HOUSE! We use it daily in the winter, and if it's not cold enough, we still turn on the lightbulb for the "fire". We set ours right in front of the fireplace. Perfect gift for the person in your life who's always cold.
7. Azores Earrings: Beautiful, color-blocked tassel earrings from Noonday Collection. And I also love these. I wear these earrings with everything because they literally go with everything. Not heavy on your ears, promise.
8. Boulangerie Jar Candle: Each signature scent is crafted by hand from all-natural, food-grade ingredients. EVERY SCENT is heaven. Goodbye Capri Blue, hello Boulangerie!
9. Joyful: The Surprising Power of Ordinary Things to Create Extraordinary Happiness. By Ingrid Fetell Lee. This book delights my Enneagram 5 self so much. It's not a how to book, but more of Joyful research and it's fascinating and has even given me inside to why certain things in our home give me such joy.
10. Raashi Coffee Mug: from the Grace Crafted Home, each of these mugs has been formed and imprinted with a timeless honeycomb design by the hands of artisans in Thailand. Normally I think coffee mugs are a dumb gift. UNTIL I received this one. I use this same mug every morning to catch my espresso and mix my iced coffee ingredients in (I don't drink hot coffee #hateme). And this mug brings me JOY! Read the book above to know why!
PS, The Cozy Minimalist Winter Class is now open–AND for one week only save 50% on the entire season pass with code: GETCOZY Click here to read more.
And for the fella in your life….
Every year my husband Chad hosts a men's event on our property called Mantime where men gather from all over the country. This year Mantime is April 2-4. Tickets are on sale now and there are a limited number of early bird tickets (save $50!). Grab a ticket for your husband now!
For more gift ideas see: