Second-hand is often my first choice when it comes to finding items to use in our home.
I'm not exaggerating when I say that all of my favorite things in my house (besides family photos) are second-hand finds.
They are the most special, interesting, quality, proven pieces that we own and I cannot imagine how sad and boring my house would look if I only ever bought brand new pieces.
Second-hand items bring soul to your home. And every home deserves soul.
I'm on a mission to convince you that you NEED second-hand items in your home too, not because they cost less (often they do, but not always) or because recycling things is great (it is!) but because previously loved items help a house feel like a real home because they add a touch of the imperfect. And imperfections are a sign of life. And life has soul.
Today, I'm sharing some favorite second-hand finds.
My little kitchen is packed full of things that are on their second or third life and I wouldn't have it any other way, heck, if these items already made it through one family, it's likely they can make it through mine too.
I love old wooden bowls, platters, stands and boards. The more used, the better.
There's nothing more lifeless than a brand new cutting board with no knife marks or stains. If you are in need of a wood board for cutting–or even serving up charcuterie or mini corn dogs, get thyself to an antique mall right now and you'll have tons of thick wood cutting boards to choose from.
Another great way to add some items on their second life into your home is by repurposing old wood and architectural pieces like windows, doors and random wood pieces.
Our property is an old sawmill property so we've got lots of wood sitting around. Chad cut up some old thick barn wood and made shelves for our little nook. They tell a better story than the white Ikea shelving I could have used. And, listen, nothing at all is wrong with using stuff from Ikea–I've got all Ikea cabinets in my kitchen and I love them–which is why I like to balance that out with some second-hand finds that give my home some soul.
Don't live on an old sawmill property? Check Craigslist, ask around on facebook and be sure to check out your local antique mall–ours has a few sections filled with old barn wood.
My favorite second-hand purchase in the kitchen is our Viking Range and her crown, the Thermador hood that we found on Craigslist a few years ago. Click here to read the whole story and see how much we paid for them. 
Was it scary to make such a big purchase of a second-hand item? Yes. But I'd been purchasing second-hand items for so long that I built up to it, plus I did all my homework, I knew what I was getting into.
This range is the centerpiece of our kitchen and I never could have afforded a new Viking. Everyone who comes into our house comments on the stove and, bonus, I get to use it almost daily. Second-hand for the win!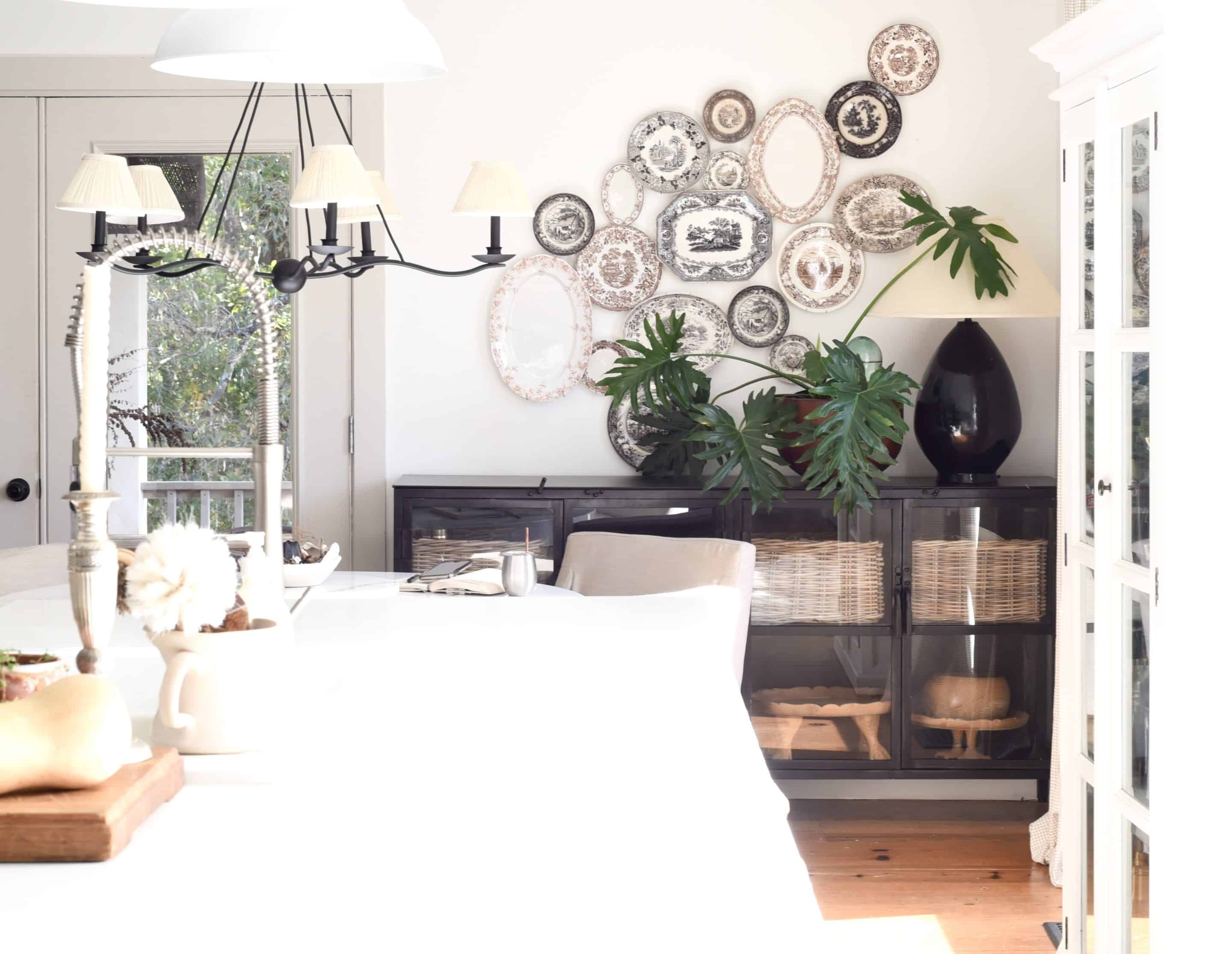 If you're just starting out shopping second-hand, when it comes to your kitchen look for wooden spoons, special dishes, kitchen gadgets, linens and aprons and of course wood trays, stands and dough bowls. I collect black and brown tranferware and am always adding to my collection. Even that black lamp above is a second-hand find. Oh, and the chandelier shades are as well!
I shop yard sales only when they are super convenient and ideally I hold out for church sales or neighborhood sales so I can hit a bunch at once. I love thrift stores but since their home section is so small, I only stop in every now and then. Vintage markets are a great place to find curated pieces when they come around. I found the two lamps above at an antique mall. The mirror and sideboard were both Facebook Marketplace finds.
I love the automatic story that happens when you add the old and new together. A home with pre-loved pieces feels grounded and welcoming.