A guest post from my dear friend, Tsh from The Art of Simple…

We live in a fixer-upper.
In some ways, this is no big deal—my husband, Kyle, is a former contractor, so he's doing every bit of the work himself. He's rewiring the electricity, replacing the 1935-era knob-and-tube system. He's been under the house countless times to work on rusted pipes that should be in a junkyard, but instead are piping water into the bathroom.
This means our little cottage is taking forever to renovate because it's a one-man show. (But it also means we're saving a ton of money on labor. Like, tens of thousands.)
It wasn't a big deal for our family of five to move in to a tiny cottage and rethink how to use every part of the house. That's pretty on-brand for us.
It was, however, a very surprising plot twist for our family to settle into this small town outside my Austin hometown, and to say, "Yep—this is home now. We're settling down."
My husband and I met while we were both living in war-torn Kosovo, and later, our family lived in Turkey for three years. We then lived in Oregon, and assumed that'd be our home base forever.
But we knew we wanted to still explore the world with our three kids, so not too long ago, we packed up one backpack per person and hit the road, circumnavigating the globe for a school year, starting in Asia and ending in Europe. 30 countries.
And then, one evening near the end of our trip in the south German countryside, we shocked ourselves by confessing to one another, "I think we should move back to central Texas."
We never thought we'd live in central Texas again. But we both knew that's where we needed to be.
And so, here we are, doing, in some ways, the opposite of traveling the world: renovating an old house that's been here forever, for the purpose of settling down. My insides would be tempted to scream and shout, "No! This isn't who you are!" except for one thing…
This is totally who we are.
Because here's the thing I've learned: Being a homebody and being plagued with wanderlust are two sides of the same coin. They're both the pursuit of beauty. They're both the search for the ideal in a world that'll never be perfect this side of heaven.
Living in different guesthouses turned out to be one of my favorite parts of our round-the-world trip. I loved discovering the different light switches, unearthing kitchen gadget standards (quick tip: bring your own portable coffee maker), and scratching my head over why so many cultures have separate rooms for their toilets and bathroom sinks.
I instantly enjoyed a country more if we walked in to a guesthouse and there was enough room to breathe. My favorite places were where we could make soup. I still dream about our New Zealand back patio tucked in a garden meant for heaven, and where I spent hours drinking coffee and reading.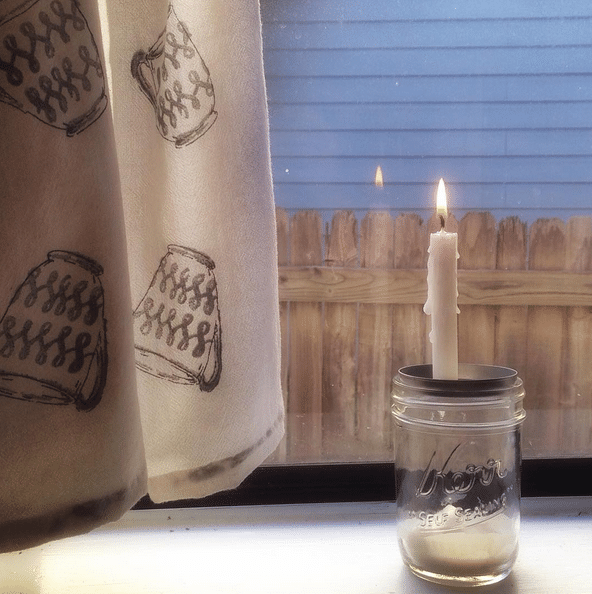 It makes complete sense that so many of us both love exploring the world, and love being at home.
People make their home everywhere, all over the world.
I can rest in this fixer-upper in central Texas, because settling down doesn't mean the death of my nomadic side. It simply provides a steady place to hang my backpack when it's time to be still and stir soup, water plants. I can water my neighbor's plants when it's her turn to head to the airport.
I like my passport full of stamps, but I need a drawer to keep it in.
We're nowhere near the decorating stage of our renovation, but I've got a cardboard tube full of my global souvenirs, art scrolled up and waiting for me when it's time. I collected pieces of art around the world, and it'll be a monumental day when I finally get to hang my pieces from Kenya, New Zealand, Italy, China, Morocco.
My favorite work of art, most surprising, comes from an amateur artist here in Austin, a canvas oil painting given to us when we were house hunting, and my then five-year-old son recognized its location: "Hey, that's in Italy! Where I lost my red sweatshirt!"
We didn't buy her house, but she wanted us to have her painting. This nondescript corner of Assisi, now hanging on our wall at our entrance, reminds me how small our world really is. We went around the world, only to find a reminder of an Italian village waiting for us and our new-old home.
Framing all this art, nailing them to the wall, and settling in for my evening tea underneath them will remind me that the love of exploration and the love of staying put are both beautiful things. And that both can reside inside one body.
And as Terry Pratchett once said, "Coming back to where you started is not the same as never leaving."
This will be a helpful reminder when we start painting the exterior this spring, and the color will remind me of northern France after sunrise.
And it'll help with needed patience when I sit on my living room couch, searching my laptop for cheap flights to Argentina.
It's here! I have been looking forward to this next book from Tsh for months. I had the pleasure of reading At Home in the World early for endorsement and I was so pleasantly surprised at how a book about traveling the world with family made me long for home. Fellow Cozies, Imperfectionists, and Homebodies of the world, finally, a travel book that recognizes the similarities between the people who long to travel and the people who long to create a meaningful home.
Find Tsh at The Art of Simple  
Follow Tsh on Instagram
Get your copy of At Home in the World
thanks to Nelson Books for sponsoring this post with my traveling-home-loving friend, Tsh
Save
Save
Save
Save
Save
Save
Save
Save