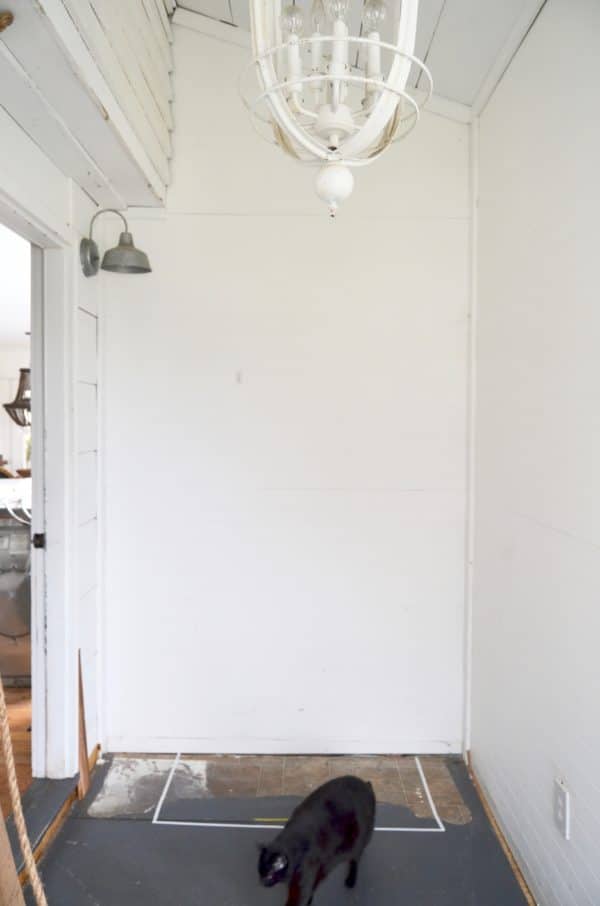 Well, it's week two of the ORC (catch up on week 1 here) and I can promise you, this is gonna be the worst boring-est week of the entire process. It's all that slow-moving, behind the scene stuff that feels like it takes five forevers but has to be done so you can move forward.
This is the part where the space ends up looking surprisingly worse than you started with, everything is out-of-place and in your way (yet the cats loved having the washer and dryer in the kitchen!) and you question why you ever moved to a fixer upper, started a blog, or decided cats would make good pets.
Oh yeah, I never painted the wall behind the washer and dryer.
And oh yeah, I never painted the linoleum under the washer and dryer.
Remember those temporary fixes that we talked about last week? Well here's the ugly evidence of them. But, I wouldn't change a thing because those quick fixes served us SO well for the past three years. They helped me stay on course and tend to other parts of the house (and my life) while making this little room feel "good enough".
This little porch addition has been crooked ever since we moved in. And judging by the slant where the floor meets the bottom wood plank on the wall, it was built crooked from the very start and nobody seemed to care. Last year we made sure the foundation to this room was secure, even though it's crooked, we cared more about the stability than the slope.
Now, we're ready to move on and lay some tile. So the floor needed to be addressed.
One of the things I love about this addition is that it feels like an addition. It feels like a closed in porch and I always want it to feel like that. And I decided I didn't want to invest the money to get this floor 100% straight as long as we knew that the structure was sound. So I'm calling it quaint and we're gonna make the floor straight enough for tile, but not perfect. Amen.
We thought about using that self leveling stuff. But the grade was so steep that Sean (the genius we call in for projects when they get out of hand) suggested building up the far side of the floor with layers plywood and some luan. Y'all, this is so honky-tonk, but it worked!
Sean layered the slope with wood that made teeny- tiny slight steps, then he screwed on the backer board for the tile right over that. Now everything is much more even, still slightly sloped, but good enough for tile!
Prepare yourself for the biggest let down of a ta-da ever…
ta da.
Said to the tune of sad trombones. All that just to get to this!
Now onto something slightly more exciting.
Remember this shower in the bathroom that's part of this porch?
Well, this past winter when Chad was re-doing our bathroom, we used this bathroom and realized that the only time any soul had ever showered in this shower was when we gutted the boys bathroom and they had to use this one, and when we gutted our bathroom and we used it.
Now that both the other bathrooms are finished, this poor shower has no hope of ever being used again. Guests stay upstairs and use the boy's shower or out in my office where there's a full bath. We still need the toilet and sink in here, but Chad had the brilliant idea to remove the shower and move the washer and dryer into the space. It's gonna fit with room to spare!
It's not the ideal choice for resale (although we are hoping to add a bathroom in the basement one day if we can). But it's an ideal choice for how we live.
We've had our washer and dryer stacked for three years and it works fine for us. Plus, now that our boys are all older, they wash/dry/fold their own clothes. This means that we don't need to store dirty clothes next to the washer and dryer like we did 10 years ago. Everyone has their own dirty clothes basket, they bring it down the day they do their laundry and take it back up to their room a few hours later. GLORY! My life is truly wonderful because of this!!!
I could not have survived like this when my boys were tiny and I was doing all the laundry, but now, a stacked washer and dryer tucked away in a half bath will work just fine for us. Ahh, the joys of aging!
Here's the second most disappointing "ta-da" of the day. This is the old shower stall area getting all prepped and ready for the washer and dryer.
This is going to free up SO much space in the weird porch area!
And look what happened while we were fretting over that mess in the bathroom–tile!!
I'm using the same tile that we used in our bathrooms. Out here in the country and in this fixer upper there are so many random materials used that I decided I was always going to try to work in something we've already used before trying to add in something new. We have a slate floor on the porch when you walk out of our basement so we used slate tiles in our bathrooms and now on the back porch here.
It still needs grout but we are making progress!
Oh and a WALL!! We (when I say 'we' I mean Sean) ripped down the pine planks so he could remove the old plumbing. Since we are doing a special treatment on this wall (next week!) we decided to save the precious pine planks in case we need them for another project one day.
Progress!
And now ladies and gentlemen, we are officially past the boring part!
I can't wait to share what we're (Sean's) up to next!
And here's a little more about where we're headed, I want some simple, hidden storage, big– yet not overwhelming statement pieces and items that honor the fact that we live out in the country surrounded by farmland without being too country.
hutch (lovely storage!!!) / chandelier (to die for!) / artwork (country statement with a modern feel) / mini-hide (perfect for this weird space!)/ armoire (hidden storage that works with the hutch)
Don't forget to check in on the other featured designer rooms (links below) and did you know there are also guest participants? This is so fun!
Centsational Girl | Chris Loves Julia | Christine Dovey | Dwell With Dignity
| The English Room Glitter Guide | House of Brinson | House Updated
| J+J Design Group | Lark & Linen | Abby Manchesky
Nesting Place |Old Brand New | Old Home Love | The Pink Pagoda |
Rambling Renovators  |  Erica Reitman | Sketch 42 | Suburban B's |
Media Partner House Beautiful | TM by CIH
Save
Save
Save
Save
Save
Save
Save
Save
Save
Save
Save
Save
Save
Save
Save
Save