Ahhh, porchiness.
I've wanted a big porch throughout all of our 14 different homes and this one has the best one ever!
A pair of patio doors open up (they both open which is great!) onto the porch and makes our house feel so large on nice days. The only downside to having double doors is that we don't have much actual "wall space" on the porch–doors, windows, a chimney–all of these force us to place the large outdoor sofa on an outer "porch wall" which in some photos seems odd, but in person makes a lot of sense.
Right? When you see the porch through the double doors it's like we have a whole room out there! And we do. The porch is one of my favorite parts of this house.
I made a few changes this spring that I wanted to share.
Two in particular made me love this porch even more!
Here's the porch last fall all cozified and decked out (get it, decked out?)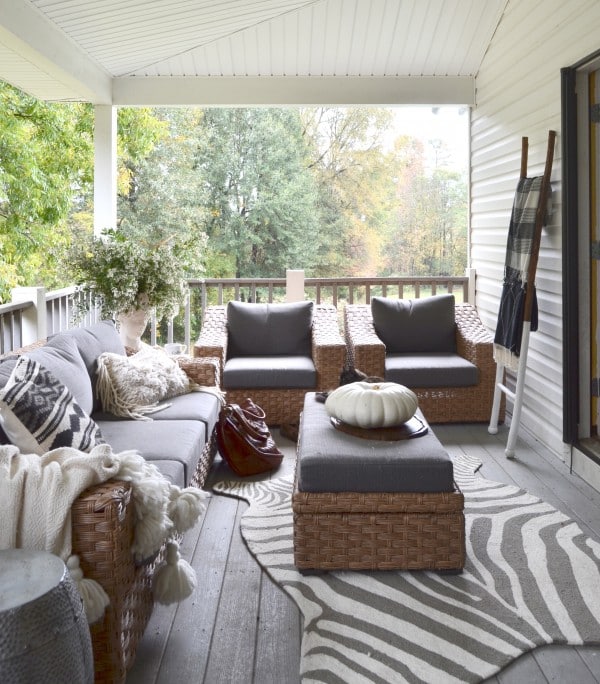 I loved this look but the rug immediately bothered me. It's just too tiny. But I had never paid attention to the porch before and if it truly got wet when in rained, so that was my job all winter–paying attention to the porch and if it got wet.
Guess what–the sofa barely even got wet! The floor never did get wet in the rain. The only exception–when it snowed that ONE time, we had some blowing snow get on the porch. I wish we got enough snow here to make me not want to put a rug down, but sadly, we don't.
So compare the photo from the fall above with this one–see how the rug really brings the room together? It's so calming. A nice plant wouldn't hurt me either, but I'll get to that in a few weeks.
This is a jute & sisal Safaviah rug–they do shed (don't sit on them if you are wearing black) I've got similar rugs in the barn and my house and I love the look of them, but my house feels much dustier with these types of rugs. But outside? Perfect.
Using what I had–our old dining room table (in the photos above you can see the older and the new one in the dining room) the zebra rug, planters and stuff from around the house, and a few little Eames style plastic chairs–it's not my favorite part of the porch, but it gives us a table and I shopped the house to make most of it happen. And you can also see the hammock back there in the corner.
The other change that I love–adding string lights. We have these type of lights in the barn, outside around our property, but using them on the porch makes it absolutely charming. It's the perfect amount of light. We'll be replacing the ceiling fans at some point, and I won't be getting the ones with the light kit–we don't need them!
Porch season is here!
I hope you enjoy porching this year!