A few times a year something magical happens…
And when it happens I feel it's my civic duty to tell you all about it. I'd want you to do the same for me.
Every now and then, Mrs. Meyer's releases a limited edition scent, and every now and then the stars align and we can get it for free!
There are two limited edition scents just in time for spring, Peony and Lilac. And you can get them for free through Grove Collaborative (formerly known as ePantry)….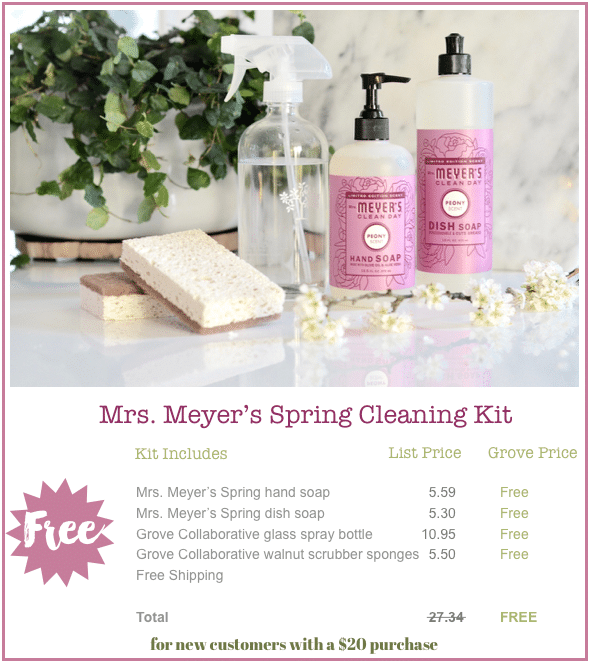 If you are new to Grove Collaborative (meaning, you've never ordered from ePantry or Grove before) you can get all this for free when you place your first order that totals at least $20…
Mrs. Meyer's Dish Soap (you choose the scent!)
Mrs. Meyer's Hand Soap (you choose the scent!)
Grove Collaborative Walnut Scrubber Sponges
Grove Collaborative Glass Spray Bottle
FREE shipping
When you go to Grove Collaborative, they'll ask a few questions to learn about your household and then auto-populate your cart with some suggested popular items. You can delete all of those items if you want (just don't delete your freebies!) and change your order to any combination of whatever it is you like from laundry supplies, to makeup removers, candles, scrubbers, even coconut oil–there's so much to choose from!
Here's an example of how your cart might auto-fill, what a great deal!
Of course, if you are already a Grove Collaborative customer, they want to celebrate you as well, click here to receive the glass spray bottle (a $10.95 value) for free in your next shipment. I have two of those spray bottles, one filled with water to spray at my naughty cat when she jumps on the kitchen counter, one filled with an essential oil blend. They are so pretty, I don't mind them sitting out on the counter.
And, some of you who order will get a surprise delivery of flowers to celebrate spring! Grove Collaborative is all about delighting their customers and this little bonus feels like a lost art of a company going the extra mile to bring joy. If you receive flowers we want to hear about it, leave a comment, email me or even better, share a photo on instagram and tag me! Yay spring!
There are a limited number of kits available, and this offer ends TONIGHT


*sadly, Grove Collaborative doesn't currently ship to Canada, Alaska or Hawaii
Wondering what else to order from Grove Collaborative?
Lately I've been using Mrs. Meyer's Basil laundry detergent  (I've developed an allergy to most national brands, but Mrs. Meyer's and my skin are getting along great) I always keep a few wood scrubbers around, and I love the Grove candles, especially Eucalyptus + Spearmint and French Pear.
Have fun checking out Grove!