We made a simple craft at The Barn last weekend.
The challenge for making a craft as a group (we had 40 and no surfaces to lay our stuff out on) is to find something worth making–that doesn't take too many supplies, doesn't have to dry, that actually looks pretty and has somewhat of a use when you are done.
beaded tassel. or tasseled beads?
I used to help with MOPS crafts (12 years ago when my boys were tiny) and I was always frustrated because I love crafts, but sometimes the finished craft, even when created to its finest, was something I'd never use in the first place. (no offense to MOPS, I'm sure the crafts are all fantastic now)
Once I was a part of a craft outing and it was the most stressful thing ever. There were right angle tools because it was imperative that we have a perfect 90 degree angle, rulers where we had to use the centimeter side and lots of women quietly wiping the sweat from their furrowed brow worried they would mess up their precious craft.
I felt like I was building a bomb. One wrong move and we'd all be blown to pieces.
This is not how making a craft should feel. Ever.
It was a crime against crafts. This kind of crafting is wonderful– but for professionals.
Some of us need a craft rehabilitation center. A place where we can come make easy, imperfect crafts. If we throw them away when we are done, that's okay. Because the point is to enjoy the process. BUT, if it turns out, we'll actually have something we can put in our house. That's the kind of crafts I want to do at our barn.
So I bought thousands of wood beads. I found mine at Oriental Trading Company (thank you instagram for bead ideas). I ordered these natural beads and these dark beads.  (for this project I wouldn't go smaller than 14 mm). The beads came in bags of 100 and we used about a three foot piece of clear lacing to string them on. It took about 60 of the dark beads to fill one strand and maybe 85 of the natural beads (they are smaller) to fill a strand. Amazon has lots of bead options too.
And of course, you can usually find bags of wood beads at your local craft store–and if it's around Christmas–jackpot, go buy a few strands of wood bead garland and cut them up. Yep, it defeats the purpose, but part of the fun is stringing the beads with your friends!
We simply strung the beads on a length of clear plastic lacing.
Since we didn't have lots of tables for everyone to sit and spread their craft out, we packaged everything up in these lidded soup containers (I ordered them anyway to serve the beans in so we had enough left over to hold the craft too. And even if you dropped them, the lid didn't fall off.) Since we were short on time and didn't want to feel rushed, we went ahead and made one tassel for every container so each person would only need to complete one additional tassel to have two for their beads.
If you are doing this at home with a small group–dump all the beads in a bowl, set out some yarn and scissors and make sure you have your clear plastic 'string'.
Each person received a tasseled container with:
a premeasured length of yarn (we just eyeballed it, no rulers or measuring utensils were used in the making of this craft, promise)
enough beads to fill the piece of clear string we provided. Again–we made one and then guesstimate how full the container should be–no counting of beads for each container. Ain't nobody got time for that.
the length of clear (ok so mine has glitter in it) plastic string. I measured from my left shoulder to the end of my outstretched right hand and that was the template we used for the length of the string.
two 8 inch pieces of coordinating yarn: this is needed to create the tassel, just one less string we'd have to ask everyone to cut
taped to the lid with artist tape (more secure than washi tape–this is what I use to tape up printables and such)
And we ended up with a little strand of beads with tassels tied at the ends, or anywhere.
Easy to make on your lap.
And ta da!
I tie tassels on any sort of string I have…like this felted wool garland I've had for years.
Various sized beads are fun too! These big ones are 25 mm (seen here)
And I use them in our Christmas garland. And on Christmas gifts.
If you aren't familiar with tassel making and you'd like to have a slew of tassel instructions with photos, I've written an ebook on how to make all sorts of tassels. You can tie them on beads, presents, shoes, bags and more.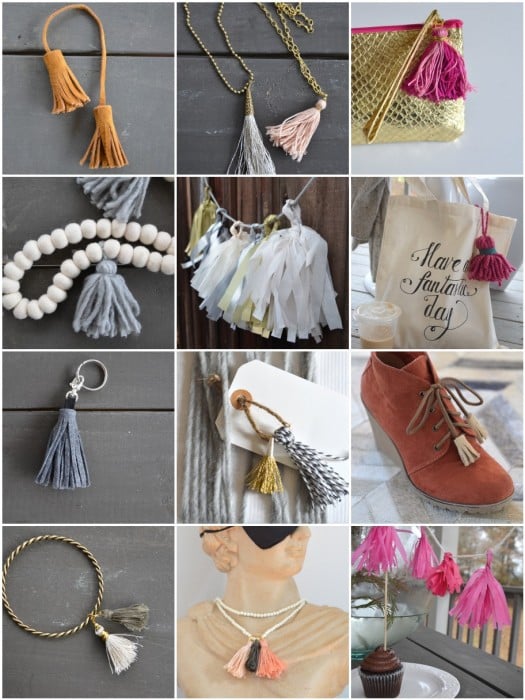 And you can get the ebook for free just by being a Nesting Place subscriber!
If you are already subscribed to updates in your inbox–simply enter your email address in the bottom box here and you'll have instant access to The Nest Files and the tassel ebook!
I'll show you how to make tassels from yarn, string, floss, tissue paper, wallpaper, leather, and felt that you can use just about anywhere to help celebrate any occasion.
This is such an easy and fun craft to do with your family or girlfriends or to have available after the big Thanksgiving feast for anyone to try out who's in a crafty mood. It will give you something to do together if you aren't into watching football or A Christmas Story. And it takes just a few dollars worth of supplies and a few pairs of scissors. Tassel making is a great skill to have. I've given many gifts that are simple necklaces or bracelets or run-of-the-mill cosmetic bags turned special with the addition of a well place tassel.
Save
Save