Special thanks to BLACK+DECKER  for sponsoring this post and helping make this imperfect space on the internet possible.

If you want to know what our family used on any given day, just look at the top of this dresser.
If we ever decided to murder someone it would be easy to solve for any detective because the murder weapon would be sitting out on this dresser in plain sight, still bloody for at least a good 48 hours after the crime. We are nothing if not consistent in our laziness. Besides, maybe we are smart, I usually set stuff there because I'm going to use it again "real soon".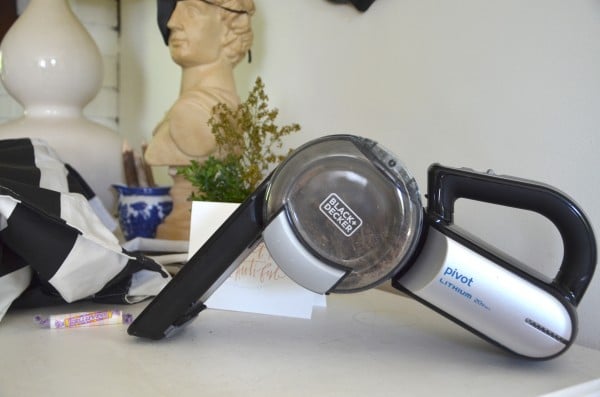 My most recent addition to the dresser top is the BLACK+DECKER Pivot Vac. I admit I wasn't expecting to be impressed. It's a handheld vac, booooring. I had one of those types of vacs years ago, something happened to it and life has moved on just fine thankyouverymuch.
But, I was wrong, this little fella has been used and reused and displayed proudly on the "we use it all the time so why put it away" dresser for the past week.
In our house of only wood floors and a few cowhide rugs, this Pivot Vac has proven to be so handy to do little touch-ups. And the best part is something that didn't occur to me as being a huge perk: it's cordless.
Remember how we talked about catering to chore you dread the most? I didn't realize how much I put off lugging out the big vacuum into our little family room every time we stepped on a cracker. It actually takes more time to get out and put away the vacuum than it does to actually vacuum the rugs. Even if it is a dumb thing to dread, the reality was that it caused me to not vacuum as much which in turn caused my floors to be dirty, which in turn caused me to feel like a filthy slob. Stop feeling like a filthy slob.
I try to pay attention to these things because it's a real way I can help myself make my life a little bit easier.  As your day happens make yourself aware of things you are avoiding and ask yourself if there is something you can tweak or change to make that less avoidable.
My floors are cleaner the stairs are happy, and soon the carpet in the car is going to be a job that the boys will argue over who gets to do it, because of this easy to use, easy to grab rechargeable strong little handheld vac.
We're giving away a BLACK+DECKER Pivot Vac to one lucky winner and since I'm shipping it from my house, I'm throwing in a signed copy of my book because cleaning up messes and imperfection go hand and hand.  Stay tuned next week for more giveaways!
To enter the giveaway click over and visit the BLACK+DECKER Pivot Vac site and then come back and leave a comment telling us a job you kind of dread and if you've come up with a solution to make that task a little more enjoyable, won't you share it?
.