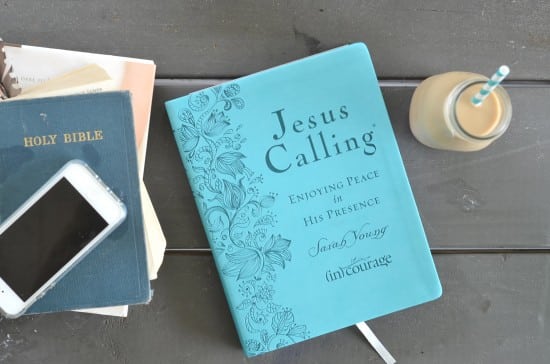 Finally. DaySpring, Nesting Place's friend and sponsor of this post has done it.
If you look back at all these photos of our old house they all have one thing in common. Actually, they have many things in common–floors that need to be cleaned, messy, imperfect rooms, lived in and loved on pieces. But besides that…
You can play Find the Jesus Calling in all of those photos. Because in our house, it's always sitting out. And a few years ago, we bought a tall stack of them and gave them away as Christmas gifts. My sister and her husband have done the same, and we always joke about who's gonna buy them all up from DaySpring. Even now we always keep a little stack around to give away because I love the gift of books. I even left one at The Cottage for me or anyone else who is there.
I admit I'm a devotional snob. I normally am not a fan of them. I'm guessing it's an INTJ thing or maybe I'm just a horrible person, I"m not sure yet. But I love Jesus Calling and it's a great companion devotional reminding us to abide, rest and receive. If you aren't familiar here's what they say about it:
This beautiful 365-day devotional is written as if Jesus Himself were speaking directly to you words of hope, encouragement, comfort, and reassurance. Experience and enjoy refreshing peace in the presence of Jesus as you read and meditate on each daily devotional and relevant Scripture.
We have the kid version (see it up there on the coffee table) and the app version–it's the most expensive app I've ever bought but so worth it because then I never have to pack the book when I go on a trip.
I've only ever had ONE complaint with Jesus Calling.
The color.
Burnt orange. It goes with nothing in my house, she said vainly.
My husband's beside table with his current reads and crumbs, I did not alter this stack in any way.
My bedside table. Do you see that? Do you notice the lack of burnt orange?!
The Blue Jesus Calling was designed exclusively for (in)courage– I like to think they read my mind and created it just for me. Also, it has the verses printed out at the bottom so you can read those right in the moment. There's even a little room at the bottom of each page where you could keep your One Line a Day journal or to number your 1000 Gifts–or whatever notes you want to scratch in down there. Some pages have more room than others but I'm totally gonna make this work for me.
Use code NESTBOOK to get 40% off the (in)courage Jesus Calling now until October 1st. They already on sale from $24.99 to $19.99, you can get 40% off that price and IF you spend $50, you get free shipping! Time to stock up on a pretty blue stack of gifts for teachers, friends, graduation and Christmas for just about $12 each. But if you don't have one for yourself? Start there. Meanwhile, just for funs, DaySpring is giving away 5 Jesus Callings at their facebook page.