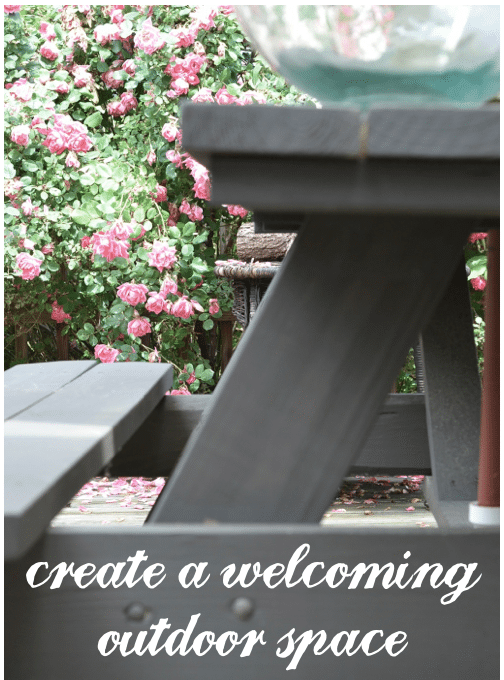 This outdoor post is sponsored by Home Depot and P&G, naturally, opinions and misspellings are all mine.

This giveaway is now closed. Winner announced here.

Perfection never ceases to strike.
Even though our spectacular knockout roses are showing off and the other flowers in the yard are plotting their revenge against the diva blooms, I was avoiding our little deck because it was in desperate need of a good cleaning. What it really needed was intensive pressure washing and we were purposely waiting until spring and I'm not one to go rent the thing, I let my husband do that. I've put off asking people to come out on our deck because it was slightly gross.
Meanwhile, I got my little package of outdoor cleaners from P&G and the Home Depot to try for myself and some to give away and thought I'd just walk out on the deck, wipe off our picnic table and let you know if it actually worked. Thirty minutes after walking outside our moldy green siding looked like new and I realized that I was no longer embarrassed to have people over. I beat perfectionism without making it perfect–just better.
For months I've told myself that I can't have anyone over and invite them out because our deck is so moldy and filthy and I assumed it would never be presentable without heavy-duty pressure washing–cue the husband nagging. Don't get me wrong, it still deserves and needs to be washed, but Mr. Clean and his magical cleaning supplies made a much bigger impact than I imagined.
before on an overcast day
after, I didn't take the picture until the next day and the sun was out
The green mold came off so quickly that it was actually a rewarding, almost fun project.
I always forget that often the biggest difference comes from simply doing something.
After spending just a few minutes wiping down the siding, the planter and the picnic table (not with paper towels on that though, we haven't sanded it smooth enough), suddenly the back deck became welcoming again. When I wiped off the table I had to remove all the accessories, and since I'm doing a month without accessories, I kept them off and put them in the guest room for the month of June. As soon as my husband started the grill the boys and I automatically walked outside and sat at the picnic table. It was clean. It was empty. It was so easy. I looked around and wasn't grossed out at our windows and siding. Seriously, is that all it takes?
Want to try it out yourself?
Leave a comment to enter to win Mr. Clean Outdoor Pro Spray, Bounty Paper Towels and Mr. Clean Outdoor Pro Magic Eraser and a $100 gift card from Home Depot!