A few things I've purchased while thrifting over the past few weeks…
I'm always willing to adopt a large shapely lamp. For now, I'll just turn it so you can't see the gash in it, but he's also a candidate for a future DIY. $4.99.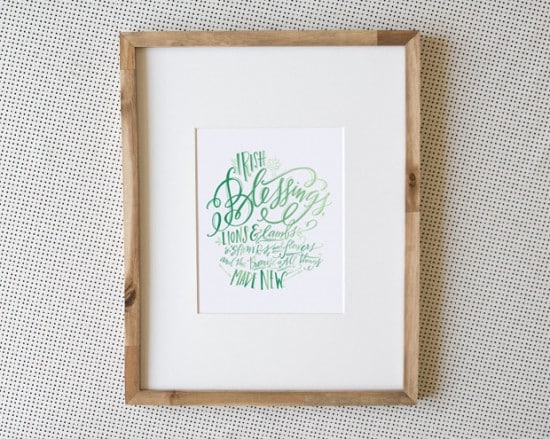 Ever since seeing this frame at Lindsay's I've been on the lookout for thin wooden frames. I found some at Target and kept them in the back of my mind but you underestimate my cheapness if you think I'll dish out $15 for a wood frame that still seems a little perfect. Pottery Barn carries a more refined version. Again,  too much, too perfect. I guess I could have asked her, Hey Lindsay where's the frame from? But I was too lazy to email and I like the thrill of the hunt. Plus it wasn't life or death.
When I saw this little frame I knew I wanted to try it,  it's not quite as imperfectly perfectly knotty like Lindsay's but it was just a few dollars, I'm hoping to use it in a gallery wall I'm working on in the upstairs family room/bonus room/whatever that room is currently called.
The other thing I've been on the lookout for is a magnifying glass. Purely for decoration so it feels like a luxury.  I've seen them all over town in the past few months, I almost bought one from Old Time Pottery for $15 but again with the cheapness and it not really being a need.
Lucky for me, I waited and found this really interesting imperfect second-hand glass at the Salvation Army. $2.99. It reminds me of this magnifying candle sconce from Pottery Barn, now I'm considering what I can do with it besides sit it on a stack of books.
I've found that if I just keep on the lookout about half the time I can find what ever it is I'm looking for second-hand if I'm willing to wait. Sometimes I'm not willing. Sometimes you need the extra wine glasses by Friday no matter what the cost. And often times I never find an item that I'm looking for because I'm not willing to pay retail for some things. But when it comes to accessories, I love seeing what pops up at the thrift stores.
What's your latest thrifted find?