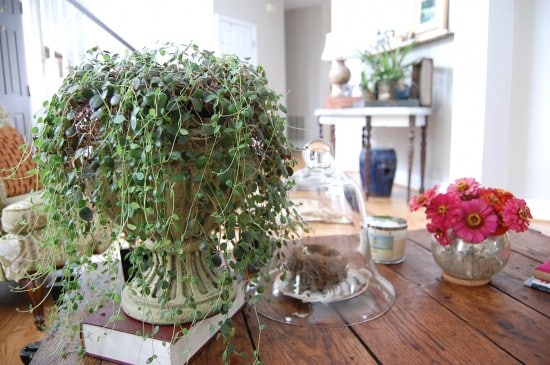 One of the biggest sources of inspiration for me are the homes of my friends.  This charming home belongs to my friend, Tracy (she helped me slipcover my sofa).  I LOVE being in her home.  It's better than a day at design school.  For the record, I don't go into every home and make mental notes of everything.  But Tracy was nice enough to let me take pictures and share them and the more I sat here in the privacy of my own office and looked at them, the more I learned.
I took a picture of Tracy but, of course it was blurry. So I grabbed this one from Angela. Clearly, Tracy is multi-talented.
Whenever a home speaks to me the way Tracy's does, I pay attention and see what I can learn and look for any idea that is sparked.  I'll go ahead and write my internal thoughts and random observations under each picture (you know, since that's so different from what I've done here for the past five years for this entire blog).
1. This table.  I think she said she got it from Metrolina (the closest thing we have to Scott's or Round Top).  I look for a table guy every time I go.
2. Um, I think she might be brilliant with plants.
3. Love the door/shelf thing, that's smart. Note to self, be smart with making shelves out of stuff.
4. Mixed metals of silver and gold and zinc.  Love.
1. Yep, the plants get even more charming under closer inspection.  She's for sure brilliant with them.  Putting plants in three matching pots looks great.
2. Duh, pea gravel in a big tray and just set all the pots on top. I am so copying that.  The worst thing is when you water plants but don't want water to get everywhere, this is smart.
1. Have mercy this is lovely.
2. That wall.  That meaningful, beautiful, playful, formal, random, well-planned wall.  I'll take three please.  I really like that she mixed rectangular shapes with ovals and circles.  I think my gallery wall could use a circle or two.
3. This room draws me in and I want to look closer at everything.  Why?   Oh, I think it might be her vignettes on the table.  I'm a little obsessed with tablescapes.  I'm not that good at creating tablescapes so I really like looking at how other people create them.
1. Again, great use of plants.
2. Nothing in this room is matchy-matchy yet it works so well.  It has just the right amount of items and everything has a voice.  I like that.
1. I NEVER would have picked out all of those fabrics together….and I LOVE them!  I think I'm going to reconsider my mixing of pillows on our sofa.
1. Tracy dip dyed the drapes.  SUCH a pretty result.
2. Really thoughtful mix of colors with the eggplant and copper and greens.
1. More copper!!  Frames, sofa, big pot to hold the magazines.  I LOVE the use of copper.  Hey, I have the copper twins at my house, I bet they'd love to have a few copper friends.
2. The bold drapes finish off the entire room.
3. Another really neat table.  I think she said she got this one from the same table guy. I need to ask her again.
1. Why do I have to be so compli-mi-cated? Why can't I be simple like Tracy and just have a large statement piece hanging over my mantle?  And two architectural pieces sitting on the ledge.  This?  Is simply beautiful.  Pretty attention to detail with the board and batten look.
1. A good reminder, dressers can be used in every room of the house.
2. Another beautiful plant!
1. Copper again.  SUCH a beautiful color.
2. Making a mental note to ask her about her rug.
3. Legos on the table?  HUGE yes!
1. I don't know what this plant is in, but I love it.  Note to self, put plants in fancy things I don't know what they are and hang them on the wall because I'm super in love with this.
My take aways from Tracy's house are all encouraging.  Usually what I learn from someone is how they break the 'rules'.  Most of us have some kind of unwritten design rules in our head and seeing other people bend or break those can be really freeing.
Here are some 'rules' I didn't know I even had until I saw Tracy's place:
1. I can't use pea gravel just laying under plants on a tray that would be weird.
2. I can't mix random pillows that drastically.
3. Dip dyed drapes would look dumb, that's scary and messy and probably not worth it.
4. Plants are hard, only use them in a few select places.
Shhhh, hear that? That's the sound of all those unwritten rules, rules that I didn't even know that I had in my head, disintegrating.  Because that's what homes like this can do for us.  That's what those lovely pictures in the magazines can do for us.  IF we let them. We get to choose what to do with the pretty homes we encounter in real life, online and in magazines.  Do we feel guilt and shame and jealousy?  Or look at them with an attitude of learning, finding motivation and being inspired in our own quest for creating a meaningful, beautiful, purposeful home?
Tracy, thank you so much for sharing your lovely, warm and inviting home.  Your family uses it so well and also, you are now my house plant mentor.
***
Someone can tell me that I can mix all different pillows of non-relating fabrics on a sofa, but until I see it done well, I don't seem to believe it.  What about you?  Have you experienced the sound of your own design rules breaking by being in a friend's home or looking at these or other photos?