This year I mixed naturals with hardware store metals from True Value.  IT. was. so. fun.  And took hardly any time.
I bought some thin strips of metal (click to see what the display looks like at True Value) and cut out triangles with regular kitchen shears. Then I hot glued them to some twine for a metallic pennant/banner/bunting thing.  Just be careful and wear gloves because the edges can be sharp. I didn't wear gloves and I got one little cut.  You won't cut off your arm or anything but I wouldn't let my kids do this part.
I even added some light pull chain stuff in brass and silver for fun. You can buy it by the foot at True Value, just like buying ribbon only heavier.
I have a nail on each end of my mantel and in the center. They've been there for years so I can hang stuff. This time I slipped a brass hex nut over the chain just for looks.
Ever want to hang something by a ribbon or jute twine but wanted to hide the ugly nail head?  Just stick the nail in the wall and hand the item and then cover the nail with an end hex bolt thing from the plumbing section (all plumbers just rolled their eyes at me).  You can hot glue it or angle the nail and it should stay just fine without hot glue.  You'll feel a little awkward when you are standing in the plumbing section for 15 minutes looking for the prettiest bolts but at least the employees were kind and didn't laugh at me for comparing bolt colors.
I also found these…things in the plumbing hardware isle.  I thought they'd be perfect held up with an upholstery tack with a photo on them.
They are copper pipe hooks and there were four or five of them in a bag.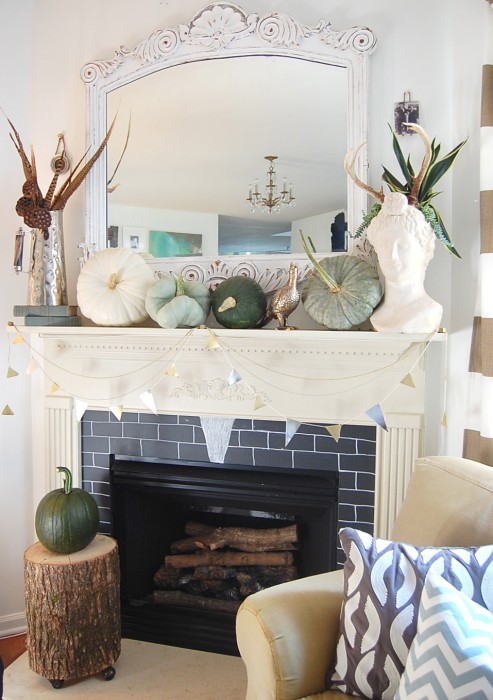 Hmm, why did I hang that little frame on the left so low? It looks so small and lonely.  Oh well, it's easy to move.  Actually, I think they'd look better in a group of three all hung together–cameras are such a great design tool!
Special thanks to True Value for the challenge to DIY something from their store.  The point I like to make with posts like these isn't "hey you should copy me and make a mantel just like mine"–you can, but that's not the point. Maybe you hate what I made, that's fine.  The point is, inspiration and materials are EVERYWHERE.  In your garage, at the thrift store, in your kid's room, and yes, even at the hardware store in unexpected isles.
Look at things with fresh eyes, not seeing what they were meant to be, but what they can become.
True Value wants to motivate you to DIY something for your home, maybe with those fresh eyes and go get you started, they are giving away a $100 gift card. Don't have a True Value near you?  No problem, they have a huge website that you can order from.
I was one of the bloggers selected by True Value to work on the DIY Squad. I have been compensated for the materials needed for my DIY project. However, my opinions are entirely my own and I have not been paid to publish positive comments.
For more ideas visit True Value around the web:
Leave a comment at the comment section at the bottom of this post to enter to win a $100 gift card! If you are reading via email or RSS reader, just click over to enter at the bottom.

Winner announced Wednesday.
Have you created a  fall mantel?  Don't forget to link up with Centsational Girl next Tuesday, September 25 for her fall mantel party.