I recently realized that I made these no sew drapes two years ago, and never ever talked about them.  What kind of home blogger am I?
They took about an hour to make and they were super easy because…
1. I didn't really make them and
2. you can't really mess them up.
These are just a pair of grommet top drapes from IKEA, they were on sale when I bought them for $20 for the pair.  They come really long and you can shorten them if you want but I like to hang my drapes high so I left them as they were in the package.
Then, this is the part I don't have photos for… I found some fabric that I wanted to incorporate.  Fabric with a big pattern.  So I bought a yard and then brought it home and purposely cut really rough around the pattern.  I'm talking big angled, messy, it doesn't really matter the exact lines– cuts.  Then I put all the cut out pieces in the washer and washed them. Then I put them in the dryer.  The effect I was after? Fraying. Lots' of fraying.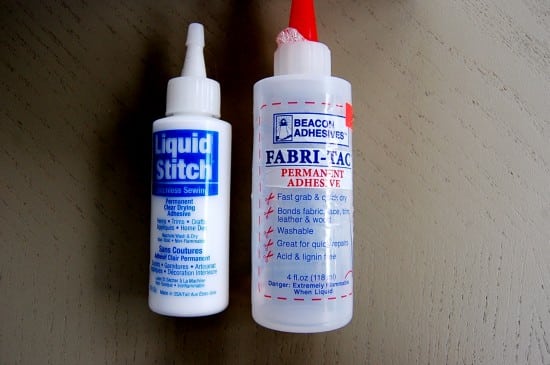 I ironed all the pieces and then I grabbed my fabric glue.  I prefer the one on the right.
I just put the panel flat on the ground and layered and arranged the frayed edged pieces.
And then I put the drapes up.
You can use the same method for a pillow case.  Supposedly you can even wash items that you've used fabric glue on–it's like stick on sewing.  I've never washed my drapes but they are about two years old and have held up great.
Custom Drapes don't have to cost a fortune.  Want to see more no sew custom drape ideas? Check out the Window Mistreatment category here at Nesting Place!