*title stolen from something I read at Angie in the Thick of it  's blog. she wins the award for most creative business cards at Haven.

You should go to a blogging conference.  If you have a blog and are somewhat serious about it?  It is worth it that you spend the money and the time to be around like-minded people and learn about your craft.  I think at least 75% of what I've learned about blogging I've learned from other bloggers who I met at conferences.
I attended Haven last week in Atlanta and it was fantastic.  I regret not taking photos. I always regret that but it's so fun just to talk to everyone it feels weird to stop and try to capture it with a camera.
My roomie and creative friend Angela from Button Bird Designs,  Ashley from Handmade Home (totally stole this photo from her) Moi, Joni from Lay Baby Lay, and Erin from Two Story Cottage.
cleverly inspired , nest, Imperfectly Polished again, stolen photo, thanks ladies!
Shaunna was supposed to speak at Haven but ended up getting horribly sick to the point of barely leaving her room.  It killed me not to meet her so I asked if I could quietly come in for a non disruptive, shy, gentle, quick, you-won't-even-know-I'm-there visit.  She probably doesn't even remember it I was so sneaky.  Thanks Ashley for creating this reminder of my non invasive visit!
This is the second year for The Becoming Conference a really informative conference on Becoming Creative, Purposeful and Frugal. (not a blogging conference although many of the speakers are bloggers) registration opens on July 10th, last year it sold out 600 tickets in a day.  Yes. That is right ONE DAY. Angela and I are both speaking again this year and we are so excited about the other session and new speakers, this is a really organized really applicable, large conference.  Jenny wrote a little more about it here.  Don't forget to mark your calendar for July 10th so you can get a ticket.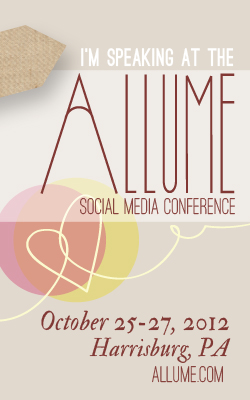 Remember the Relevant Conference?  It changed it's name to
Allume.
  I like to call it The Conference Formerly Known as Relevant CFKR for short.  Allume is featuring some of my favorite bloggers– my smart and funny friend,
Tsh from Simple Mom
, the ever gracious
Ann from A Holy Experience
and the most Professional blogger around, PROblogger,
Darren Rowse
.
I'm planning on bringing our whole family this year and I'm looking forward to my session.  We'll talk about how to fiercely protect the true goal for your blog.  And the fact that Doing Less and being more isn't just a nice cliché' it's a real choice and the secret to getting there will allow you to become laser focused on your passion, your art, your hobby, your business, your blog.   I still need a life changing title but you get the idea.