Sometimes a place is so inspiring that words become meaningless…
Bebe Gallini's  is like a local, ever changing Anthropologie meets shabby chic furniture shop.  It's got home decor, furniture, gifts, art, jewelry, candles, soaps and a few clothes.  Why, WHY did it take me so long to finally go into this shop?  My friend Angela has been telling me about it for ages and one of the shop owners, Carole May and I have emailed before and finally, Angela put me in her vehicle and drove me directly to Bebe Gallini's.  Thank you Angela.  I am forever indebted.  And Carole is wonderfully warm, fun and super approachable, you will adore her.
You just want to BE in the shop.  You want to soak it all in, and it feels wonderful to see all the unique items. I want my house to be like that.  I want to feel like I'm surrounded by beauty, creativity and meaning.
If you are ever near Charlotte promise yourself you will go up and visit Bebe Gallini's.  All of those dressers and tables and case goods were imperfectly perfected by co-owner Beth Phillips~and the prices are really reasonable.  I wish I had a place for that cabinet up there. And, Bebe is a retailer of Happy Chair. I've talked about Happy Chair a few times before.  You NEED to see these works of art in person.  I think I might have a goal to one day own a Happy Chair.  It's kind of my equivalent to a Monet.  And Bebe Gallini's is kind of like the museum but, it's a museum only in it's curation of amazing works of art, art that you can sit on, purchase and take home, and live with and they get better with age.
I forgot how invigorating it is to be surrounded by inspiring ideas.  Whether you have bags of cash to spend or are on a tight budget, it's worth it to walk around in spaces that stir your creative juices.
I spent about $7 on a couple sheets of map paper and wrapped them on some canvases.
Oh, and about that name…Bebe Gallini…
Remember that episode of The Brady Bunch?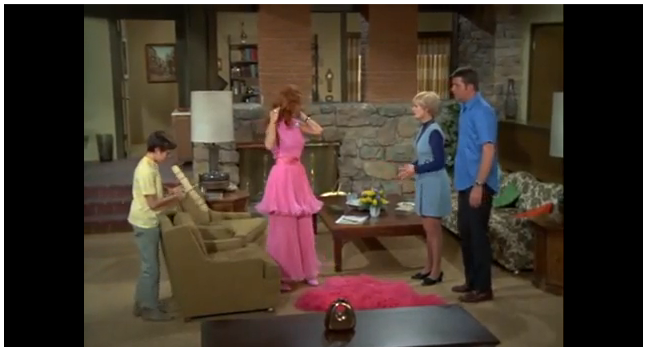 Maybe I'll see you at Bebe Gallini's soon~and if you are too far away to visit, check out some of your own local shops, I bet you won't be disappointed.