The fur covered chair did not come about because I sat around thinking "oh if only I had my own fur chair".  Oh no.  All I was thinking was "oh if only I had a chair for that corner, not too expensive, not too big, not too much trouble".  I knew I had an old yard sale chair in my garage ready to take to the goodwill and the scale was perfect.  But I didn't want to sew.
Fur seemed like a great choice and on the plus side, it would add a little quirkyness~every room needs a little quirk.
But, before I took this little risk, I tried out my fur on an ottoman. I definitely think a little fur goes a long way in a home but, I needed to see how difficult it was to work with on a piece of furniture.  It worked out great and the cutting was easier than I thought so I moved right onto the chair.  See, baby steps with risk.
Here she is in all of her before glory. Ripped, scratched, old.
The first thing I did was paint the wood.  I just grabbed a leftover can of not too shiny paint.  It didn't matter the exact color, I knew I wanted white so I picked some white color from my garage. And this is not a post about how to paint furniture, I don't claim to know much about that but, if you want advice from an expert, my friend Mandie, a sponsor of Nesting Place detailed every step in her ebook How to Paint Furniture~she walked me through painting our kitchen table and unbelievably it's still holding up great.

Once the paint was dry I roughed it up a little with sandpaper and then draped my fur on it to see which way I wanted the fabric.
I think I had 1.5 yards of fur.  You could lay a blanket over your chair and measure how much it takes to cover your chair from front to back and then you'll know how much fur to buy. Or you can be like me and just guess. Starting off, I only cared about centering the fur so it draped equally on the sides and lining up the fur on the front of the seat.
Remember, fur is super forgiving because of the length of the hair.  So as long as your cut is close, you can make it work.  Looks like I used the side edge of the fur to start.  Before you glue, lay the fur on your chair different ways because with most fake fur, the hair lays a certain direction.
And get your super duper hot high powered hot glue gun and go to town.
Each chair is different but, you just start at the front and hot glue, trim, and move on.
Oh no, stop the world, I cut my fur too short and left a big space.  No worries, you can just cut a little fur patch or toupee, if you will, and glue it in.
See? You can't even tell.
Now just continue hot gluing and securing the fur all the way over the back of the chair.
Here's a little video to show you how I did the back seam.
Each chair will be a little different but, the method is the same, cut the fur to the best of your ability and glue.  If you don't cut enough off, just take off more, and if you accidentally cut too much, make a patch.  It doesn't get any easier than this.
I love the finished chair. Not bad for a $5 yard sale find and $20 worth of fur.  It only took about 30 minutes to recover. Once I was finished I felt a little like a crazy person for having a fur chair and liking it so much so I did a quick google search and found…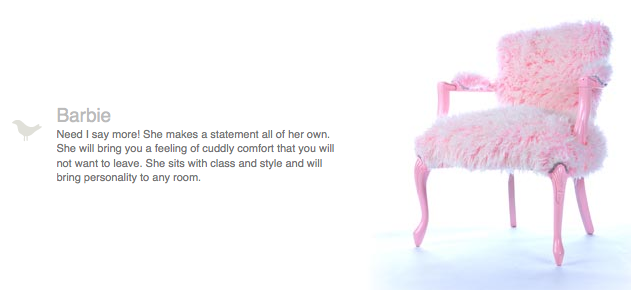 The BARBIE!  By Shawna Robinson at Happy Chair.   Hers even has arm tufts!    I came across her site months ago after seeing her work in person…
Laura and I were enchanted by Shawna's booth at the Metrolina last fall.  And look,  it's a fur covered chair.  I guess I have great taste after all.
Is there something in your home that could benefit from a little fur?