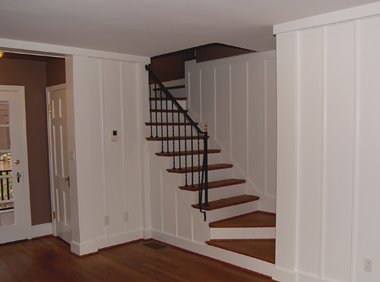 Photos
: Braitman Design/Build
Braitman Design :: Knotty Pine Transformation click over and read the comments about the prep work, primer and paint Jackie used for this project.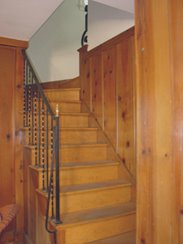 before
Apartment Therapy :: Before and After Knotty Pine Paneling

How to de-gloss paneling :: Ranch Remodels
More Knotty Pine before and Afters :: Curbly
Wood Paneling That Looks Really Great Unpainted :: Inspired Room
Joy, this post is for you and the others out there wondering the same thing. Here's a small part of Joy's comment from yesterday's post about painting pine furniture:
Here is the question of all time for those of us who have knotty pine and can't stand it (But of course everyone keeps telling me im CRAZY to paint over it, it will not work but the ladder is to live like im in a tree house!! LOL!! But no really!!!…I don't want to live in a tree house!!!). And everyone telling me this does not live in my house with me, hubs would probably try painting it if we could find a paint that would at least cover somewhat.
Go for it Joy! YES! You can paint that naughty pine! Have you painted paneling before? Feel free to link to a post in the comments showing your painted paneling–knotty or not!