Two years ago my parents bought a fixer upper, it was a huge project and I promised you that I would share the afters…
Here's what it looked like when they bought it.
This house was a complete gut job. They put in a new roof, windows, plumbing, walls, kitchen, bathrooms, flooring, lighting, siding–they even enclosed a carport to add a family room and put electricity in the little shed in the back so dad could have a writing office (his first book comes out this summer!)
Even though their last house was bigger the layout was really odd and it had a teeny tiny kitchen and tiny, tiny family room. So when Emily and I came over with our families, people ended up on the floor.
Ikea kitchen with Ballard lighting.
This is the "carport room". It has a closet so it counts as another bedroom, but mom and dad use it as a family room since the main family room is tiny.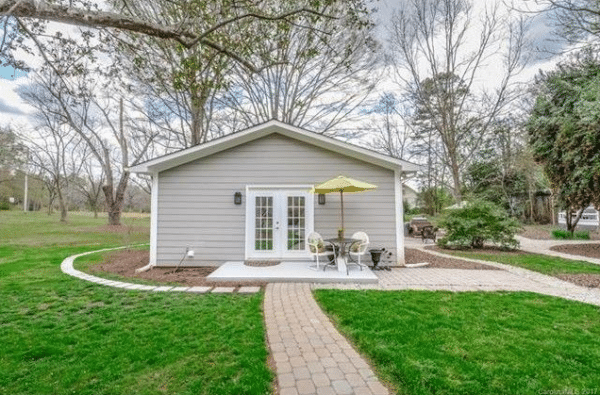 So, big news: my parents just sold their house!
Yep, these are the MLS photos. The house sold the first day it was on the market with 8-10 offers!
They started to realize that although it's easier to care for a smaller home, there wasn't enough space for family to spend the night comfortably and that's important to my parents. Their siblings all live in other states and all the grandkids still love to spend the night with them even though they are older.
So, they bought a bigger house for their family–and it's brand new and they are fixing up nothing. I promise to have a tour for you "in a few weeks."
I'm still amazed at what Mom & Dad accomplished in just two years and it really encourages me in my own house that WE CAN DO THIS. And you can do it too.
PS, if you like their house, I learned everything I know about decorating from my mom and I'm teaching it all to you in the Cozy Minimalist Decorating Class (it's on sale with the Homemaking Bundle for just $29 for a bunch of home resources that will blow your very mind). If you don't like my mom's house, let me assure you, I don't know her or why she decorates the way she does, so you should come learn from me instead in my Cozy Minimalist Decorating Class that's on sale for the next five days with the Homemaking Bundle!!
Save
Save
Save
Save
Save
Save
Save
Save
Save