Shouldn't all sofas just automatically be a mattress on the bottom? What a wonderful world that would be.
Over the past few month we've used my office as a guest room so often that I'm considering re-naming it. I haven't worked in there for ages and it's so much better suited as a guest cottage.
As I've thought about bed options (right now we have one of the boy's old twin beds in there) I came across these daybeds that look like sofas. Upholstered and soft and this one above can even be ordered to hold a queen mattress!
I've never been a big daybed fan, but these look more like wide sofas that you want to sleep on. Brilliant!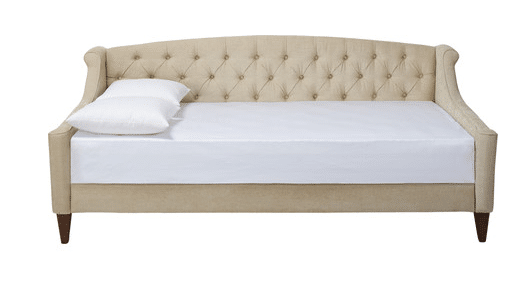 The one above is from Joss & Main. Wouldn't two of these facing each other be a comfy alternative to two twin beds? One would be a great idea in a nursery or in an office.
I also love how Annie took a queen mattress, stuffed the back cushions from an Ikea slipcover and used bolster pillows to create a huge queen sofa for their family room. She deserves a Nobel Peace Prize or something! Read all about it here.