Sometimes you need to UnDecorate for Christmas.
So here I am welcoming the internet into our home for Chris's Holiday Home Tour– (welcome if you are hopping over from Kim's place, Sand and Sisal!) the truth is, my house is very simple this year. Luckily, I have seven years worth of Christmas that I think is worth remembering along with a few corners of our home today that help remind us of the season.
Here's a fresh little corner of our kitchen, phase two of this fixer-upper. I like showing this…
But the truth is, here's the rest of the kitchen, evidence of a wonderful little Christmas party we had last night for some out-of-town friends. Our house isn't done, the barn isn't all that warm, but it doesn't matter, we have to invite people in, in the midst of our mess and un-doneness. If we wait for perfect it will never happen.
this wreath and over 150 more to DIY
Blogging is my job, my full-time job, and this summer I needed to decorate in July for a quick photo shoot–it was actually fun because I didn't have to pull out a tree or anything. I just brought in some pillows and greenery. It doesn't take much to make a home feel Christmasy, really we just want to feel cozy.
Our first Christmas in six years in our own house–a 25-year-old fixer-upper, we had running water in the kitchen for the first time a few weeks before I wrote this post: Good Enough Decorating for When Life isn't Perfect Because Isn't that Always?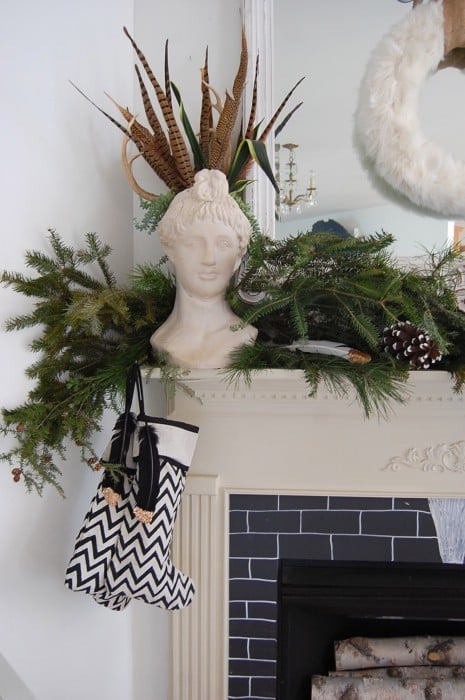 Before that we lived in a rental house for four years. Here's the house we rented: Simply decorated for Christmas and featured in Better Homes & Gardens (I was able to pack up, everything fit in 4 bins, a bag and a small box that I kept in the house–my goal was to use the least amount of pack-away-able Christmas decor ever in a photo shoot for Christmas–a five-room feature!)
How I wrap gifts (year around) Simple gift wrap you can use year around (also seen in Better Homes & Gardens}
And my general feelings about Christmas decorating: The year I decorated for Christmas with a rock
More photos from the rental house at Christmas: Decorating for Christmas…Naturally : 3 steps I took to take back my Christmas decorating
I hope your Christmas is slow. And full of wonder and meaning and hope. I hope this season you choose to stop the hurry, even if it means breaking a few traditions so you can truly celebrate. Sometimes traditions actually get in the way of the season.
If you'd like to join this community of imperfectionists, we are having a Christmas Tour of Homes that anyone can join, next Monday, December 15. The linky will stay open all week. Perfect homes need not join. But we all know, there are no perfect homes anyway. There's no pressure, don't rush around getting your house ready, but if you want to join in and welcome us into your home, as is, we'd love to stop by. Digitally of course.
PS There's a delightfully cozy Holiday Hostess sale going on right now at Joss & Main hosted by Kelly from Lily Pad Cottage. And, in the month of December, if you refer a friend to Joss & Main you get a $15 credit (actually you will get that every month) when they make their first purchase, but now SO WILL THE FRIEND! Any person who is referred as a first time customer and makes their first purchase will get a $15 credit show up in their account!
Next stop on the Holiday Home Tour: Ask Anna, y'all, I am SO CRUSHING on her tree!!!