This giveaway is closed, winner announced here.
People ask me about things from my blog all the time. But the thing I get asked about the most after I talk about them, are these Velvet Plush Pumpkins. Everyone wants to know if they really are as lovely as they look. And I always tell them the same thing.
No.
Because they are lovelier.
If you come to my house in the fall I'll insist you hold one. If you were a girl who loved stuffed animals or live kittens, then that translates over to wanting to pet these Plush Pumpkins as an adult.
My photos do not do these pumpkins justice. They are hand stitched, heavily weighted and created with unique, organic, (REAL) stems. The velvet is luxurious. I am a person who can appreciate a good knock off or hack when it comes around, and so far, every knock off I've seen of these is pretty sad. These are not your HomeGoods velvet pumpkins.
These pumpkins come in 44 colors (here are some of my favorites)…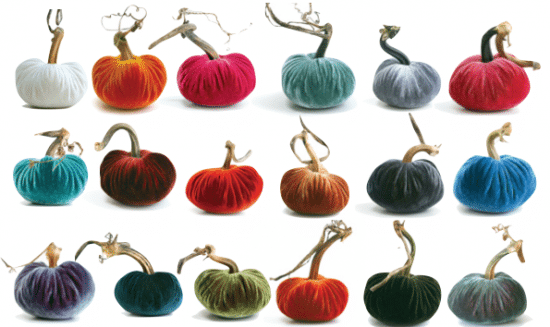 And here are the sizes from a tiny little 2 inch pumpkin to a jumbo 17 inch pumpkin.
And at the LoveFeast Shop they don't just have Velvet Pumpkins, they have Velvet Acorns, Velvet Mushrooms, Velvet Hearts and a special line of Pink Pumpkins.
And of course, we have a giveaway! The ladies of the LoveFeast shop want to giveaway one Velvet Pumpkin Cozy Trio and one Velvet Acorn Grass Nest. Leave a comment to enter to win!