Muskoka Living
Let's start out with an inspiration photo, shall we? Feel free to scroll back up to rest your eyes.
Because this is what greets you when you walk through our front door.
The day we closed. That first door on the left leads to the basement, if you were wondering what that one weird blank wall was to the left of the sink in the kitchen–it's the back of the landing for the stairs to the basement. The door on the right is the master bedroom, then a coat closet, then the old laundry closet past the threshold along with a pantry. This little house has lots of storage.
Every. Room. In. This. House. Is. Begging. For. Attention. Now! Each space is pleading it's case telling me why it should be the one that we focus on first and spend all of our little bit of money on. I hear all of their voices in my head and it's my job to decide what we can live with for awhile, what gets a temporary fix, what gets addressed immediately.
We did take the carpet off the the first step just to see what we were dealing with. I have a fear that halfway up the stairs there's no more wood treads, but we've yet to remove any more stair carpet and I'm really happy with that first step.
The hall will need to be patient with it's two layers of peeling wallpaper, sprayed on ceilings and multiple dark doors. We have more pressing issues than measly ugly wallpaper and bad carpet. Tomorrow I'll explain a little of the order of things and why we are doing what, when.
The best parts of the hall? Duh, the floors (I may have bought this entire house just because of the floors!), also the hall is nice and wide…
There's a Dutch door at the far end of the hall near the kitchen, and I'm a sucker for Dutch doors even if it's pretty clear that someone just cut a regular door in half.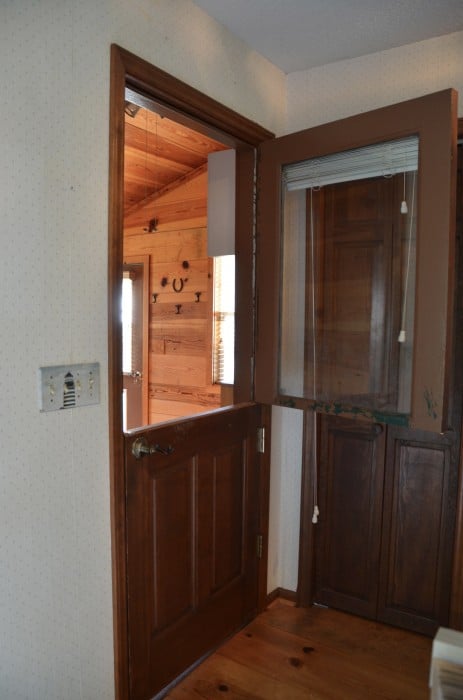 "Paint me next!" Did you hear that?!