Many of you have asked about the book page light so I wanted to give you some closeups and photos of it without the book pages. I ordered this pendant lamp last year from Joss & Main because I've learned that if I have a great hanging light in the room, I don't need to have as much decorative stuff.  A statement piece like a pendant light can really take a space far.  So basically, I ordered this light because I'm lazy and I knew it would do a lot of the design work for me.
It came with a real light kit that can be hardwired but I wasn't ready to commit so I just popped an Ikea cord/socket set in and made sure that the bulb hung at the same place that it would have with the light kit.  Because of that, there's a big white cord hanging from the light up and over the curtain rod and then against the wall and then finally behind the drapes.  It's something I told myself I'd fix later but, later never came because for some crazy reason, the white cord hasn't bothered me near as much as I thought it would.  I can tell, I'm getting older, maturing, mellowing out with age. Five years ago that cord would have made me a crazy person. It was even like that when the magazine came to shoot the house.  I don't even know who I am any more.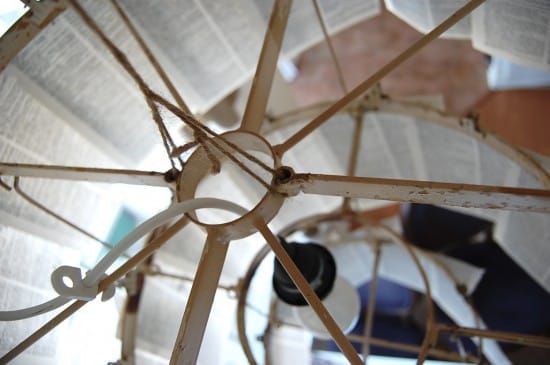 Here's the light with pages of bird paintings I cut out of a book.
If you DIY or Hack this, I'd love to see what you do, be sure to tweet me or email me!
The closest I've come to hacking this light is the poster board and book page cover I made for an existing pendant.  I made it 18 months ago for my sister's book signing and I'm still using it. It's been moved around to different rooms and once again I'm shocked at how much I like it.
Related Posts because if I don't put these someone will ask anyway so it's easier for me to put them here so they will find it, regulars, please forgive me you are so kind for putting up with me:
The Most Frivolous Thing in My House (Disco Ball post)
Moving Furniture (wondering why my stuff looks different all the time?)
If you must know, current sales I'm into at Joss & Main: I'm crazy about this sale (here's what's currently in my cart that I'm considering) And love this one too
Lastly, I found a light with a similar feel: the Tiered Pendant Light from Urban Outfitters. It's much smaller but still makes a great statement. Or, you could make your own stacked drum shade pendant light.
Have you made a great pendant light?  Leave a link in the comment section~