GIVEAWAY CLOSED: winner announced here.
Once Melissa utters the word Fall on her blog, I know I can talk about the fall season without fear of riots, even though it's still summer right now.  Some words I'm thinking of for our home this fall?
simple
natural
versatile
cozy
neutral
Blessings Unlimited, long time partner with Nesting Place is introducing their new fall line.  They are the epitome of meaningful beauty.   You can eat off these grace & gratitude plates, yes, but I'd love to show them off and hang them on a wall.   My favorite use for beautiful dishes like these?  Stay on the lookout for cloches/glass domes at your local thrift stores and during the holidays bring an appetizer on the plate and then leave it behind as a hostess gift.
They are getting all Anthropologized with their plates too.   This little one is just lovely.
Trays are a I-want-to-have-cleared-off-surfaces-for-our-family-but-I-love-to-have-something-pretty-on-my-table-girl's best friend.  Because you can gather up your pretties and then easily scoot them around or even lift the whole tray off the table.
If you are into metals then you'll appreciate this tray…
"Gather together with grateful hearts. We have all received one blessing after another. John 1:16"
I don't mind having a tray on a table because in five seconds flat you can grab the tray of pretty things and move it over so you can get to living/eating/playing/crafting/messing.

"Give thanks to the Lord for His goodness." Psalm 107:8
The moment I saw this chalkboard tray with its rich, gorgeous wood, I knew I wanted it on the wall.  I figured out if I grab one handle and pull straight out, the ring comes out with a pin and you can put it right back in if you want–just get a mallet (ok for me that means a hardback book, and give it a gentle hit).  And then look~a pretty wall hanging!
Blessings Unlimited loves it when I take apart their stuff.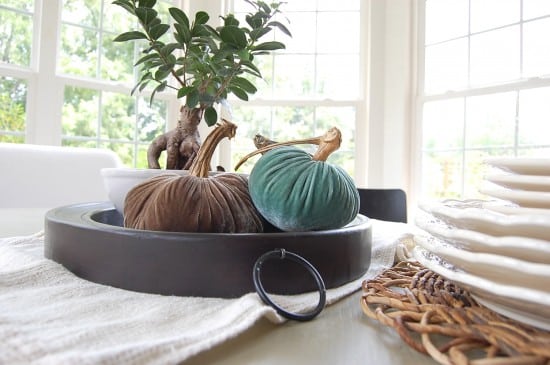 If you aren't familiar with Blessing Unlimited (I like to call them BU) they are kind of like Pampered Chef (or remember Southern Living at Home?) only with home decor and lifestyle items that are both beautiful and meaningful.  There are local consultants and you can host a gathering with your friends at your house, have fun, and gift or purchase meaningful beauty  for your home.
Learn more:: Host a Gathering in your home,  become a consultant and start your own business, or find a local consultant near you.
View their online catalog here, if you decide to host a gathering and it brings in over $400 as the hostess, you can get the chalkboard tray for just $20 among other perks.  Maybe you've been considering your own business, you can combine your faith and your work with Blessings Unlimited and have your own business and make your own schedule.
This post and giveaway sponsored by Blessings Unlimited, partnering with Nesting Place for over two years.  Thanks BU for continuing to provide us with real, purposeful, meaningful beauty–and for letting me take apart your pretty stuff!
Velvet Plush Pumpkins curtsey of the Lovefeast Shop–giveaway from them coming next weekend!
Now leave a comment to enter to win!