UPDATE:: The real link-up for 31 Days will open tonight, September 30th at 9PM EST.  Normally we wait until 12:01am on October 1st but I'm getting too old to stay up that late. And I hate to make all of use East Coasties wait up that late too.  And the West Coasties hate it when I post it first thing in the morning.  So this year?  Nine O'Clock tonight.  See you then!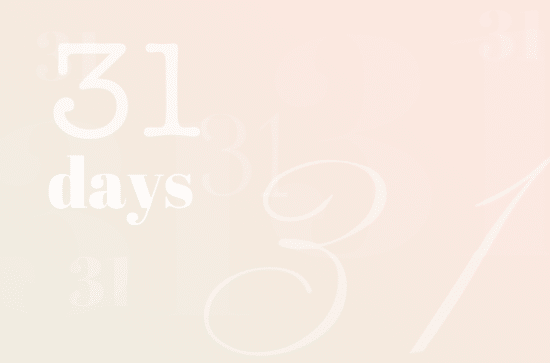 31 Days Starts Monday.  Oh my word I have not even written one post ahead of time.  Every year I tell myself I will write all the posts in the summer and then in October I'll watch movies all day and light a pumpkin candle.  And every year I never do that.
What's 31 Days? Basically anyone can join in, just pick a topic and write about it every day for the month of October–we all come here and link up on October 1st.  Think short posts with one point made each day.
Last Year's October 1st Link Up
Also? Once again I made a practice link up for anyone who wants to mess around and test out different buttons or images or just plain figure out how in the world to link up.  I can't figure out how to allow comments on that practice page though so feel free to ask questions (and answer any questions) here in the comments.  I'll try to check in throughout the day but by all means, if you know the answer to someone's question feel free to answer it!
…also, if you want to use my premade button templates:: here they are.
*Updated: Friday :: just heard from InLinkz the linky supporter I use, there's a bug in the system and currently you might not see the little red "x" to delete your own image/link.  Monday I'll have an email or webpage to give you if you incorrectly link something and they'll be there to help for support.