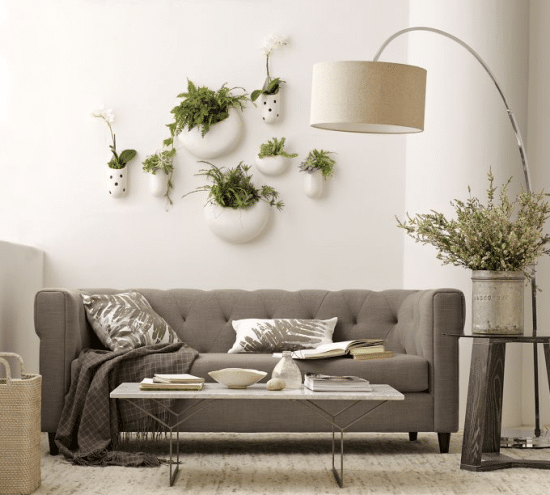 Ok, so I still can't stop talking about plants–I've written a Part One and Part Two of this series and I cannot stop.  Today I want to share a few of my favorite types of planters–from simple to quirky.  Just putting this post together inspired me to use planters in different ways, I hope it inspires you as well.
Don't forget, if you wish to Pin, please click once and pin directly from the source!
Top Photo:: West Elm has some unique choices including stackable planters, wall planters (I might have to try one of these and report back about if it works) and textured planters.
Simple Terracotta Planters:: Mark Sikes via Habitually Chic
Blue and White Ceramic Planter on Stand (see it back there with the huge tree growing out of it?
Hanging Planter from Ingleside Pottery
William Sonoma :: Vintage Bathtub with Stand Planter
via AntiqueChase use an old trophy
bird bath planter via Real Simple
How to Make a Hanging Planter from Skinny laMinx
Rhino Toupee Head Planter (actually it's an air plant–you can pop one on top of any ceramic head you have around your house–I know I'm not the only person with ceramic animal heads)
Plant herbs right outside your kitchen window
Window Boxes :: A really helpful article on how to think about creating a "Luxuriant Window Box"
Patio Garden (using pots that have a common theme helps unify the space)
Basket as a planter via Birgitta Wolfgang
Head planters found here and here (lots of photos with different kinds of plants and accessories)
Next post? Fairy Gardens and Terrariums, then I'm done talking about plants. Promise.  And yes, I just wrote the words Fairy Gardens somebody, stop me.