Here's the current progress on our laundry room.  We added the most functional item to date, the counter top.  This $50 Ikea counter spans from wall to wall so I don't need to worry about a sock getting stuck in the crack between the washer and dryer.  And we always had a 10 inch gap between the dryer and the wall–now that's surface area since it's covered by the counter top.  We had to cut the shelves to fit this space but we got lucky with the counter, it was 60 inches wide and it was a perfect fit.  And as you can see I'm still trying to decide what to do with the chalk board wall.
Here's the during photo without the counter.  This counter is the single best item we purchased for the space and we didn't even attach it to the wall so it will go with us when we move.  I am now spoiled and will always want a laundry counter in every home.  All we had to do was adjust the feet on the washer and dryer so they were exactly the same height and then set the counter on top.   It does hang over a bit in the front so my husband will cut a few notches in the back to allow for the plug and stuff so it can scoot back flush against the wall a few more inches.  But I'm not pushing my luck and reminding him right now, I'm just happy it's there.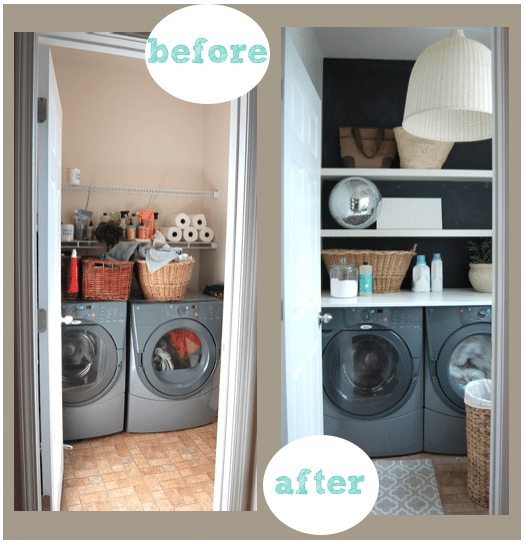 I still stand by what I wrote in the last post about this room, even though we are renting, when the laundry room door is open (which is always) you can see straight into this room from the front door and I was tired of builder grade everything.  It was so worth it to spend a little of our own money on this room.
Here's the final breakdown::
$15 Chalk paint
$50 for the basket light–I'll probably take it with us when we move unless I'm tired of it or too lazy to take it down
$50 for the counter
We can take the light and counter with us if we want so really, it's as if we spent $75 on this makeover for our rental which was more than worth it.  It really finishes off the first floor of the house.  Sometimes the best, most impactful thing you can do is makeover a tiny space.