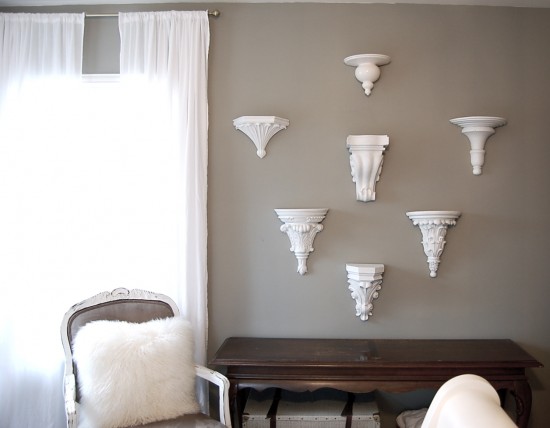 I finally came up with a solution for this wall in our bedroom.
Back in February when I showed off our bedroom, I really only showed one wall.  The finished wall.
What you didn't see was this wall.  And yes, I like that huge sunburst mirror too.
But two competing suns in one room make me feel like I'm filming the next Star Wars.  We never intended to have them both in one room, I just happened to get a really good deal on both of them and loved them so, we lived with them both for awhile to see which one we liked the best. The big sun ended up in our bathroom. Although, I admit, now that I see the photos again, I kind of like the big sun better and want to find something else for above the bed.  But that's a different blog post.  And chances are it will turn out to be a blog post soon, the more I look at these photos.
Anyhow, as you can see, the other walls are blank. And I'm not one for going out and buying just anything for our walls.  I'm picky.  I like a challenge, I like dimension and collections and things that don't cost much money. And I insist on being different.
When I saw this photo in the Coastal Living Style Guide, I knew I had found my solution.  But, I also knew that I'm too cheap to go out and buy a bunch of matching white wall shelves, fancy brackets, I-know-these-things-have-a-name-and-I-cannot-think-of-it.
I already had three wall shelf things in my little stash.  So I spray painted the non white ones white.
I ordered a few from One Kings Lane because I liked the big dimensions.  Spray painted those babies right up.  And ideally, I assumed I would leave room to add to my collection over time.
But, once I started putting them up
I realized that they couldn't be too close if I wanted to display something on them.  I still don't know if I want to display something but, I figured I should leave room just in case.
Because they sure are pretty with some sea life on them.
Pretty, but, I kind of like them plain.  I even tried a starfish on each one but it looked like a starfish freeze modeling convention.  Plus I kind of like the idea of using the shelves themselves as art since they are all so different.
Ohhh, pretty.  Also, if they are empty, there is room for even more shelves.
The best thing about these shelves is that you can find them for just a few dollars each.  I see them all the time at thrift stores.
I stopped at three or four yard sales in my neighborhood and found three more shelves and I paid $2 total.  My favorite part is the differences in size and shape and design. My least favorite part is that most of them need two nail holes to hang.  Drat, I hate making two holes, it really ups the chances that I'll make one hole in the wrong place and then suddenly have 8 holes for each shelf.
So here's the room so far with the fish eye lens so we can see both walls together.  Hmmm, I like them but, I'm thinking I want to expand my shelf collection and have room to grow so I may end up moving them in the future. But, the moral of this story is that wall shelves can be found for cheap, painted the same color, and end up making a statement all by themselves when grouped together.  And the second moral is that just about anything can be collected, painted the same color and grouped together to create a cohesive looking display.
To be continued…