If you're like me, you have already taken your tree down and are ready to have a fresh looking nest. I know I always look forward to still having a wintery feel but, I can't wait to clear out all the garland, extra pillows, tassels and wreaths that fill up my home.
Let's talk about walls. The house that we currently live in has LOTS of wall space. I am not fond of many paintings that they sell in stores and I am very cheap so, I had to get creative.
Here is something I HATE! But it's a necessary evil — the thermostat. This entire wall grouping was designed to hide it.
I placed a wall shelf underneath. I bought it from my FAVORITE home decorating place, Hobby Lobby, the original price was $15 but, they were 50% off . The small frames were $6 each and I just leaned them up against the wall so air could still get to that electronic thing. The larger picture frames were on sale for$10 from Garden Ridge and the mirror was also 50% and I paid $50 for it. The total price for this wall….$117 and it's my biggest expanse of space to fill.
Don't be afraid of yard sales. I like to look for frames. I bought a pair of these for $1 each because the glass was broken. They were still in the box from Kirkland's with a $14.99 tag on them. When I got home, I threw out the glass. Who need glass anyway? That's one less thing my boys can break and it eliminates picture glare!

Here's another yard sale find, this iron work was $1. I just hung it with some heavy duty nails.

I also like to frame weird stuff like this picture I drew of our nest when we lived in Macon, GA.
Ain't my drawing good?
Here's another wall grouping. I know I'm the only person in America who still likes gold but, according to Paris Hilton gold is all the rage. Three of these mirrors are from yard sales. I like mirrors compared to paintings because I don't have to commit to colors that may be in the paintings.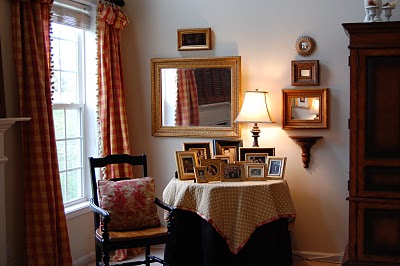 Remember that star? Ebay, $39. Search for "metal barn star" .
I think this is my favorite thing. My seven year old did this last year. I got the frame for $10 because the glass was broken. Again, who needs it? Another thing I've done for kid's art is to put them outside in old clothes and give them paint from our walls and let them paint pictures out of that. It's a sure fire way to have kids art that goes with your color scheme. My only rule: they can't leave any white space on the canvas.

Frame a card they made you.

I found two of these poster frames for $10 at Garden Ridge. The plexi (is that a word?) glass was broken and oh, they were a nice shade of vomit orange. Five minutes and a can of black spray paint later and I had nice black frames. Then, I got super lucky and I found 2 chalk boards at a yard sale. Again, $1 each.
I hot glued the chalkboards into the frames and, how fun are these? If you don't want to go to that trouble just look for an ugly painting in a good frame at a yard sale. As long as the painting is on a smooth surface you can paint over it with chalk board paint for the same result.

Here's a door from an old project that we had laying around. I painted it too.

My mom found these plastic outdoor shutters at the goodwill and yes, they were already red.

And don't underestimate the power of plates. You can find them at the dollar store, wal-mart and yard sales. So CHEAP. And classy!

More plates here and, if you are in bed and eating a cupcake and need a plate, ta-da how awesome are you!?